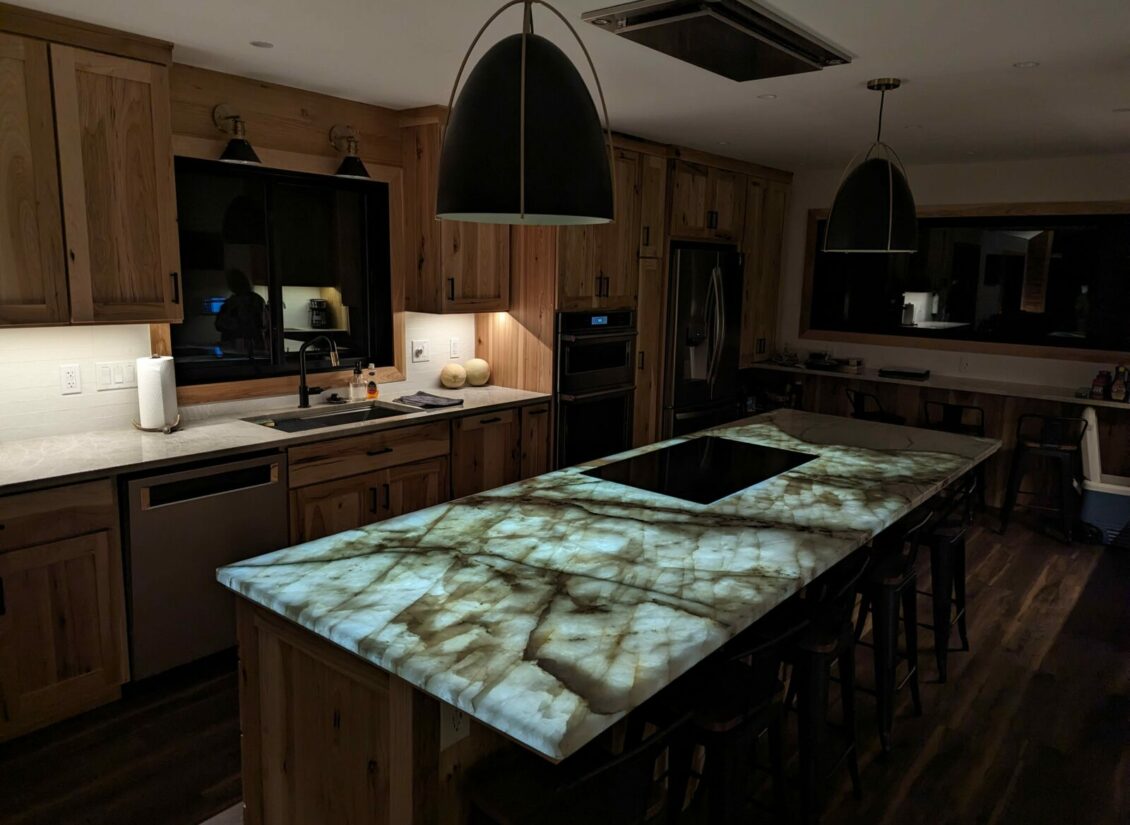 Patagonia Quartzite Backlit Island
The homeowner wanted to highlight his kitchen island with an overhang. Because of the overhang, he was worried about the substrate showing, but then had the idea to stain the wood substrate the same as his cabinets. This was the perfect solution as there was no mitre.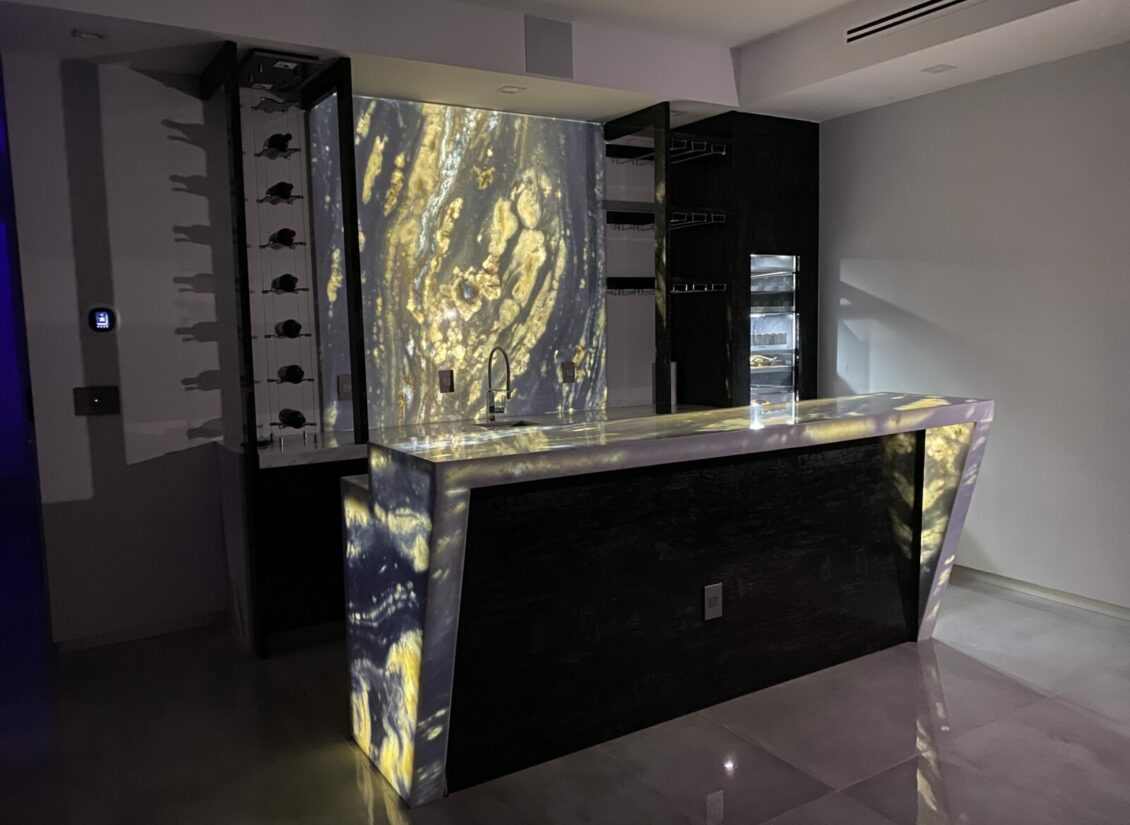 Bluecielo Quartzite Backlit Kitchen Island Bar and Backsplash
We were given the exact measurements of the bar and waterfall areas substrate to create panels to fit exactly. Scroll for installation pictures!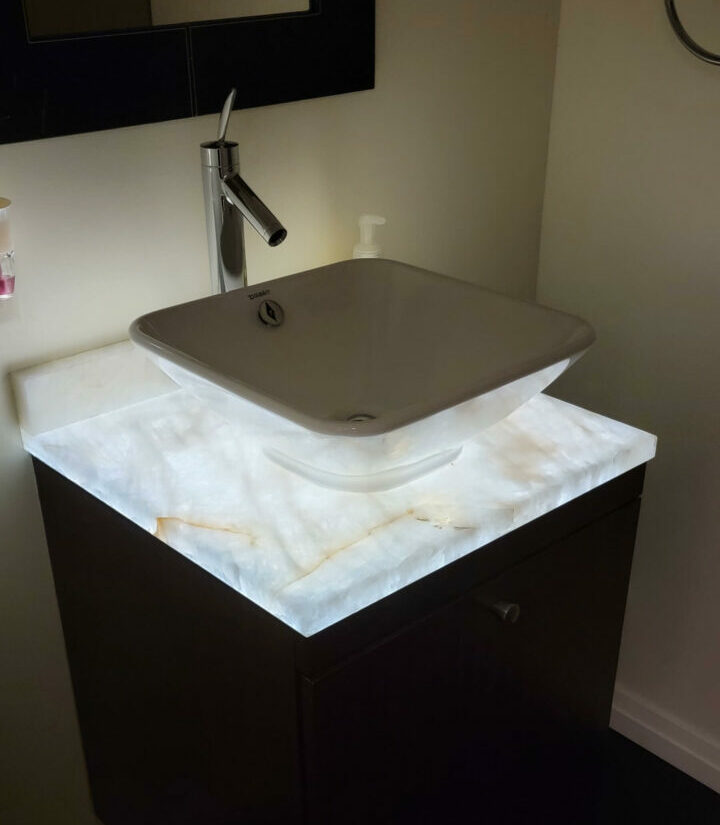 Cristallo Quartzite Backlit Bathroom Vanity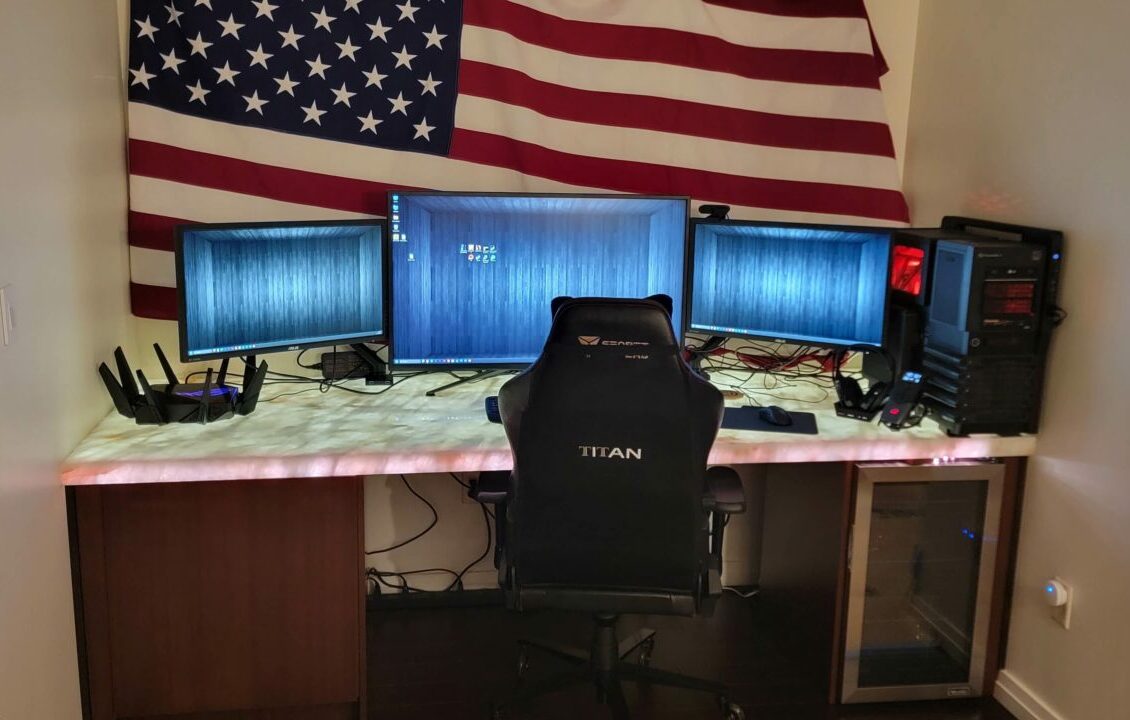 Cristallo Quartzite Backlit Desk
Work and gaming computer desk backlit to take your home office to the next level. The homeowner specified where to cut holes in the panel and stone for him to run wire which was a breeze for us.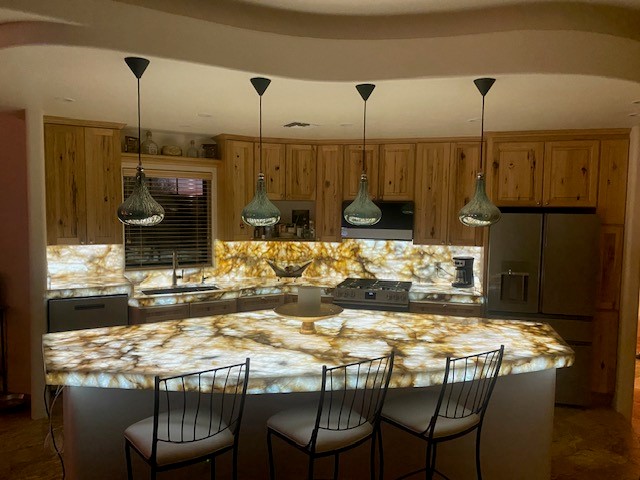 Custom Backlit Quartzite Island
The homeowner wanted his custom island backlit, so he sent us pictures and a physical template. Pictures of the installation are included here to show how the paper template was made along with the substrate behind the stone.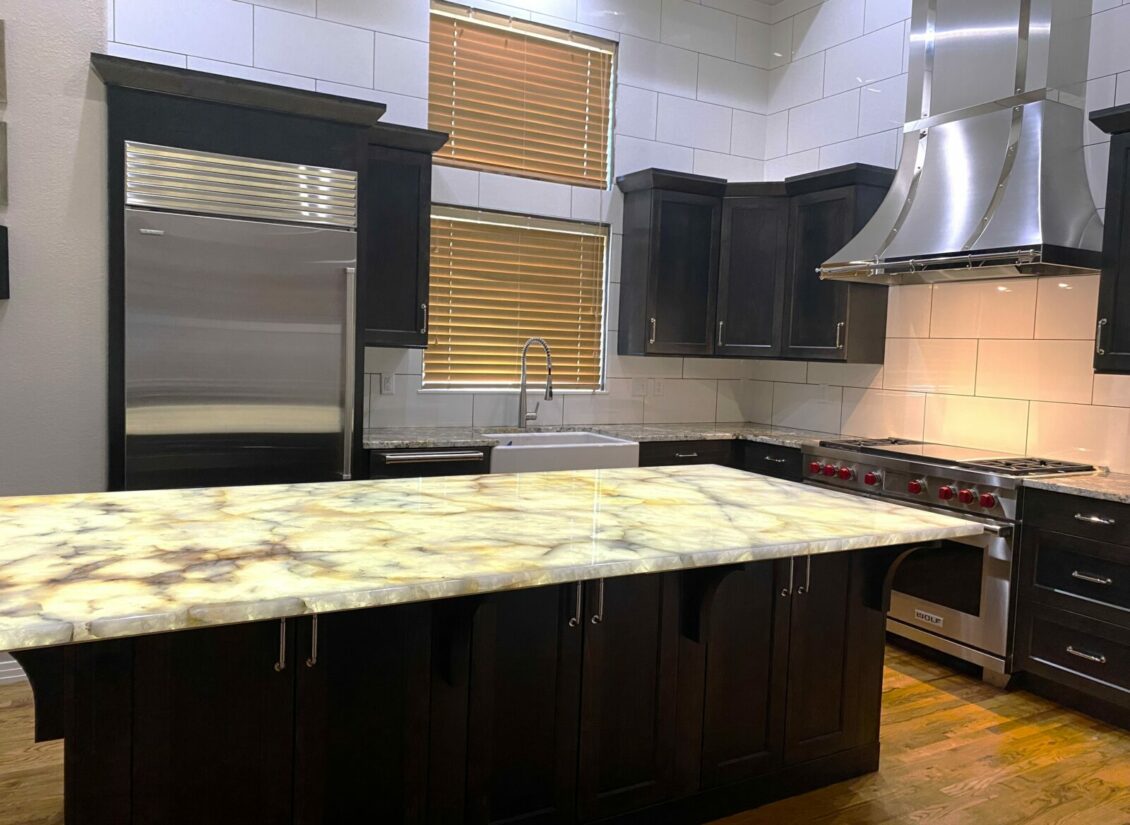 Quartzite Kitchen Island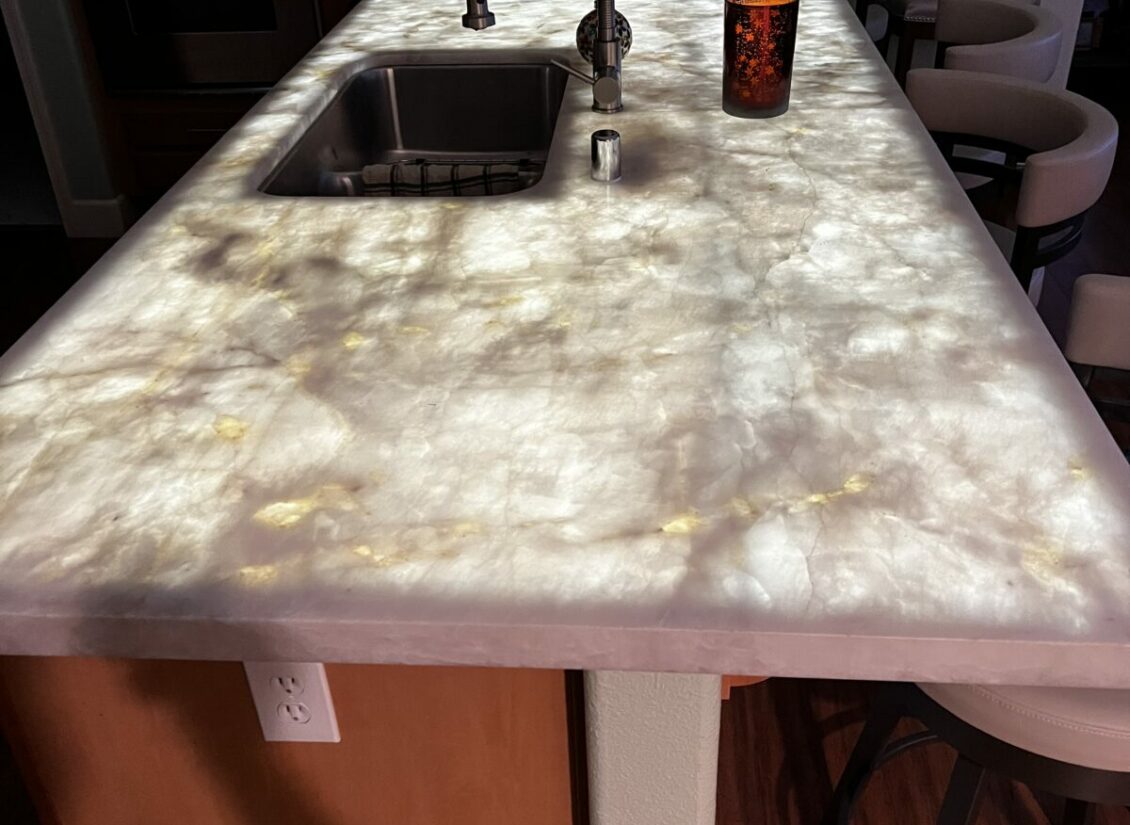 Quartzite Counter Top With Sink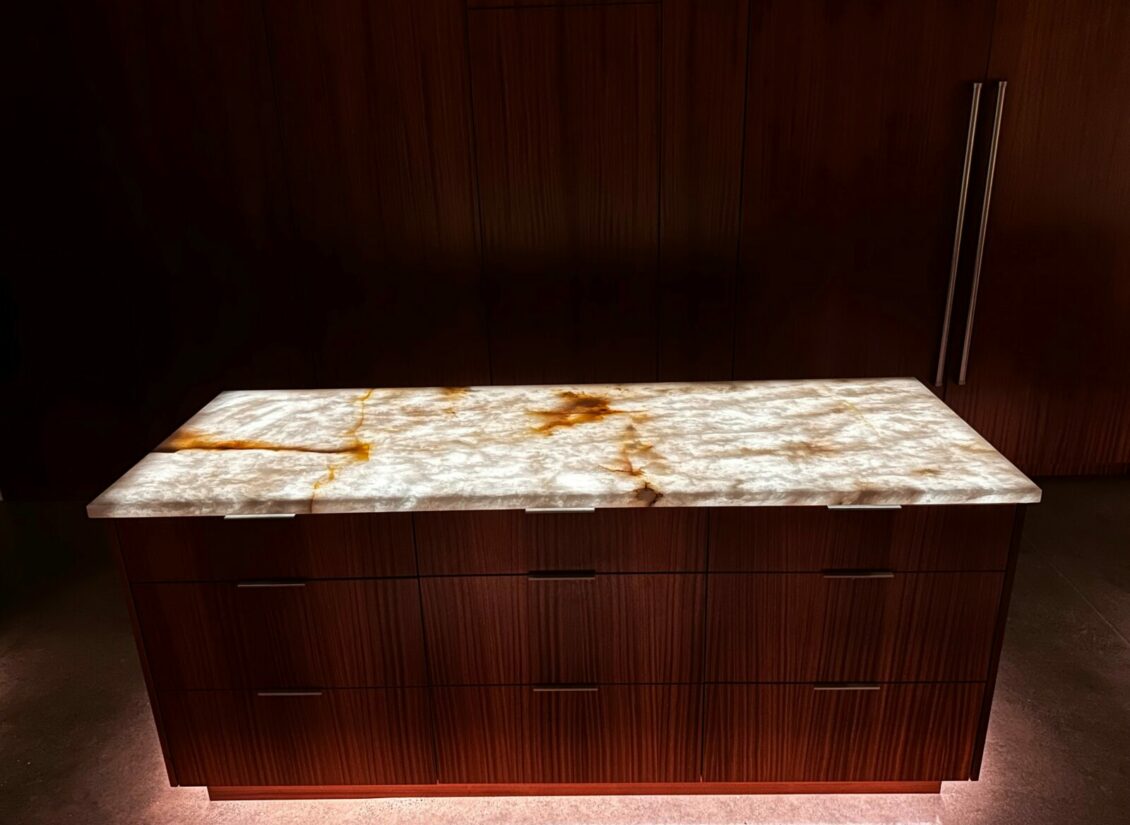 Cristallo Quartzite Island and Bar Counter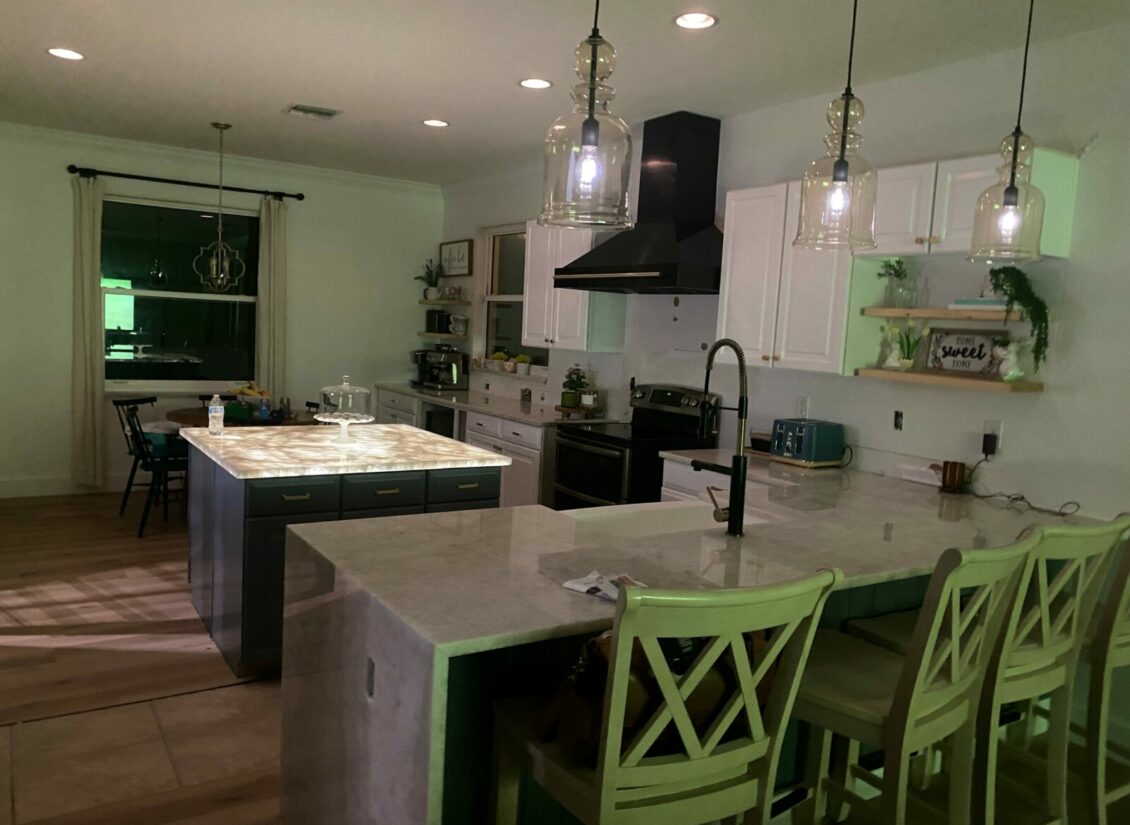 Cristallo Quartzite Island
The homeowner wanted to light up his kitchen island in our Classic Glacier White panels.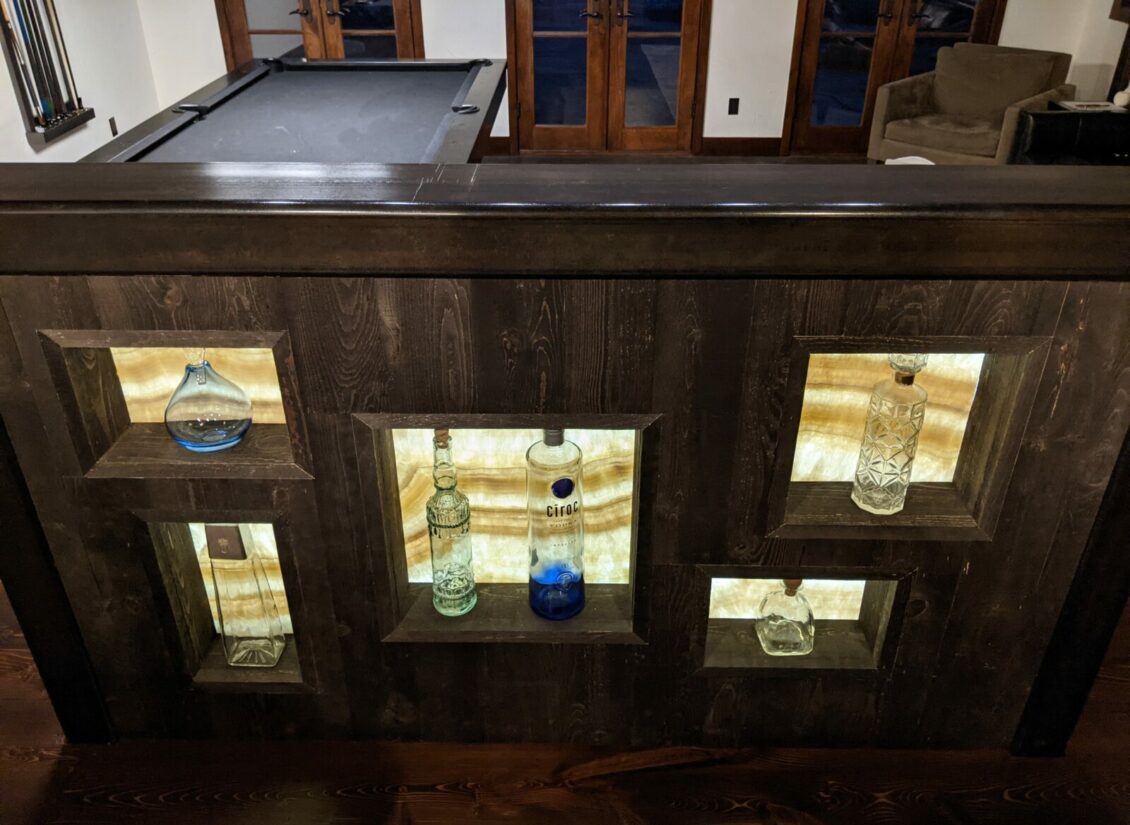 Backlit Onyx For Home Bar and Backsplash
Our Classic Glacier White panels helped light these custom onyx tiles and backsplash for the homeowners home bar. This was something of a DIY project, and we gladly worked with him every step of the way to help bring his vision to life.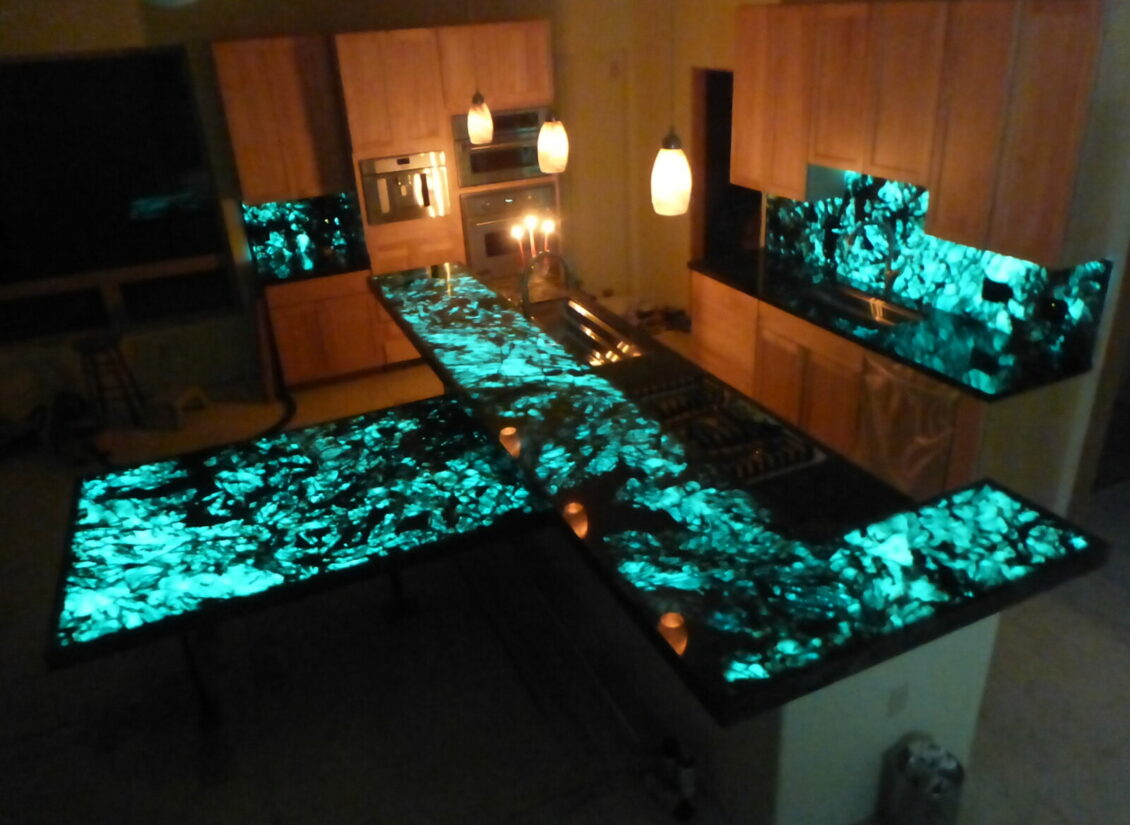 Green Marble Counters in our Blue Green Light Tape Panels
The homeowner specifically requested our Blue Green Panels to create a galactic backlighting effect for his beach house.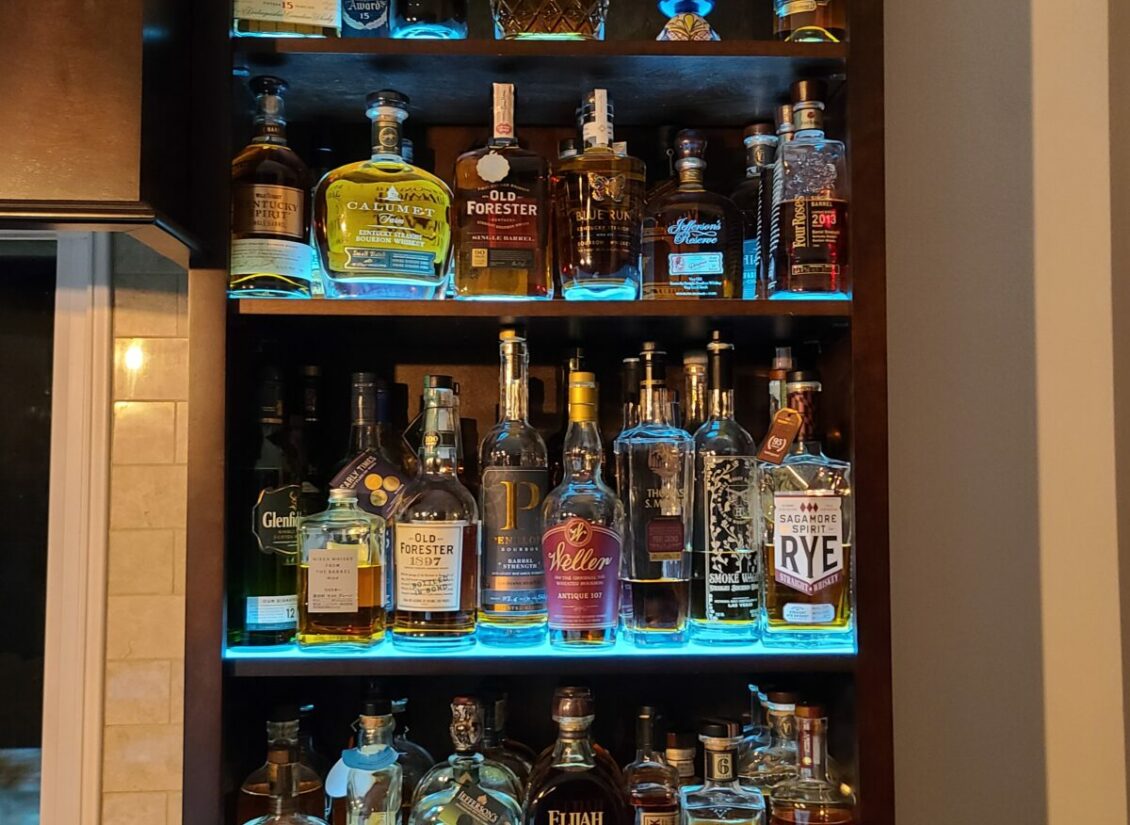 Bar Shelf Lights
Bar shelf lighting in our Classic Media White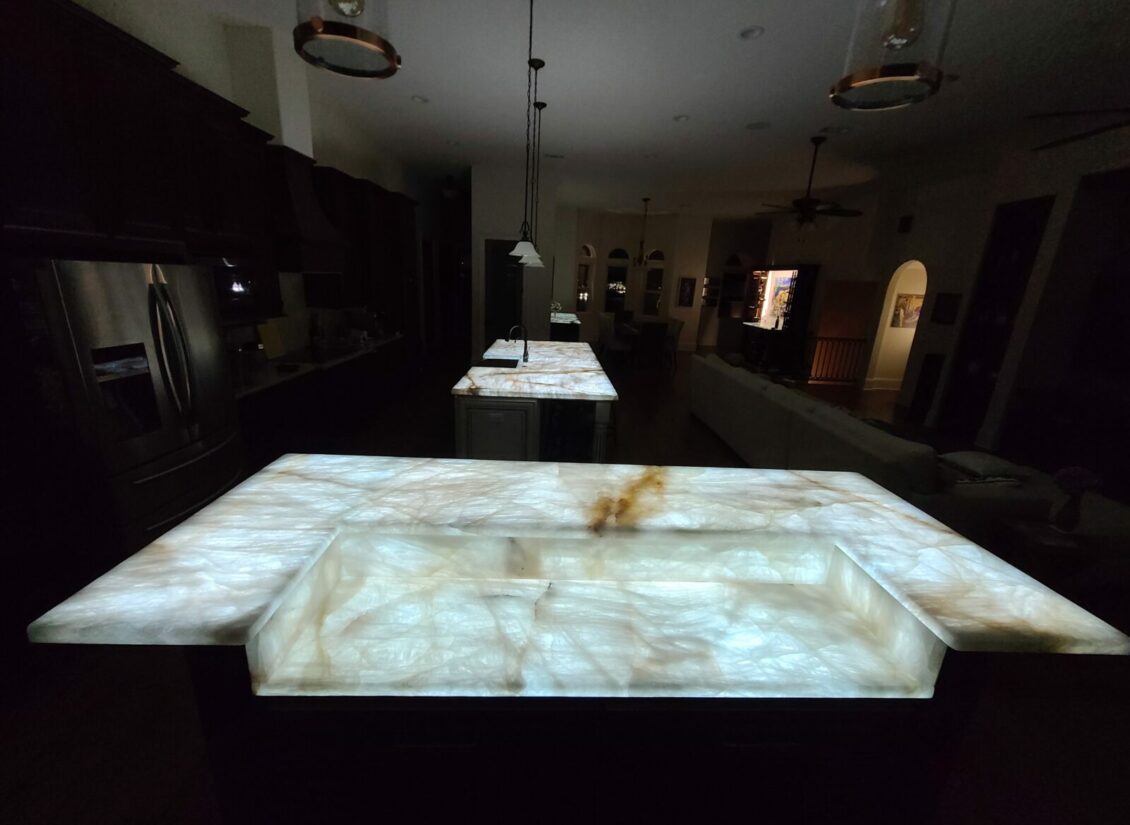 Cristallo Quartzite Bar and Kitchen
The homeowner wanted to have his kitchen island, bar and counters lit up with our Media White Light Tape panels. We walked him through the entire process and helped with every step of the way.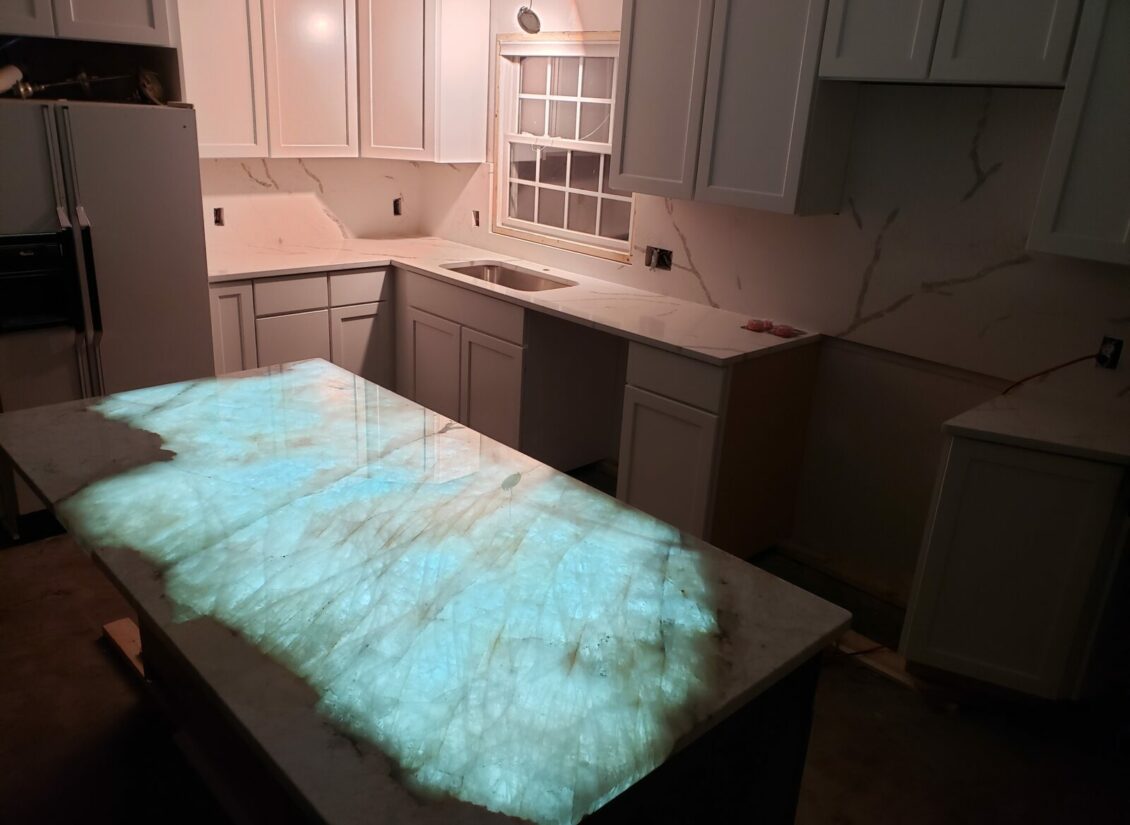 Patagonia Quartzite Backlit Island
Media White panels underneath Patagonia Quartzite. Light Tape cuts through the clear crystal in this stone effectively and perfecty evenly.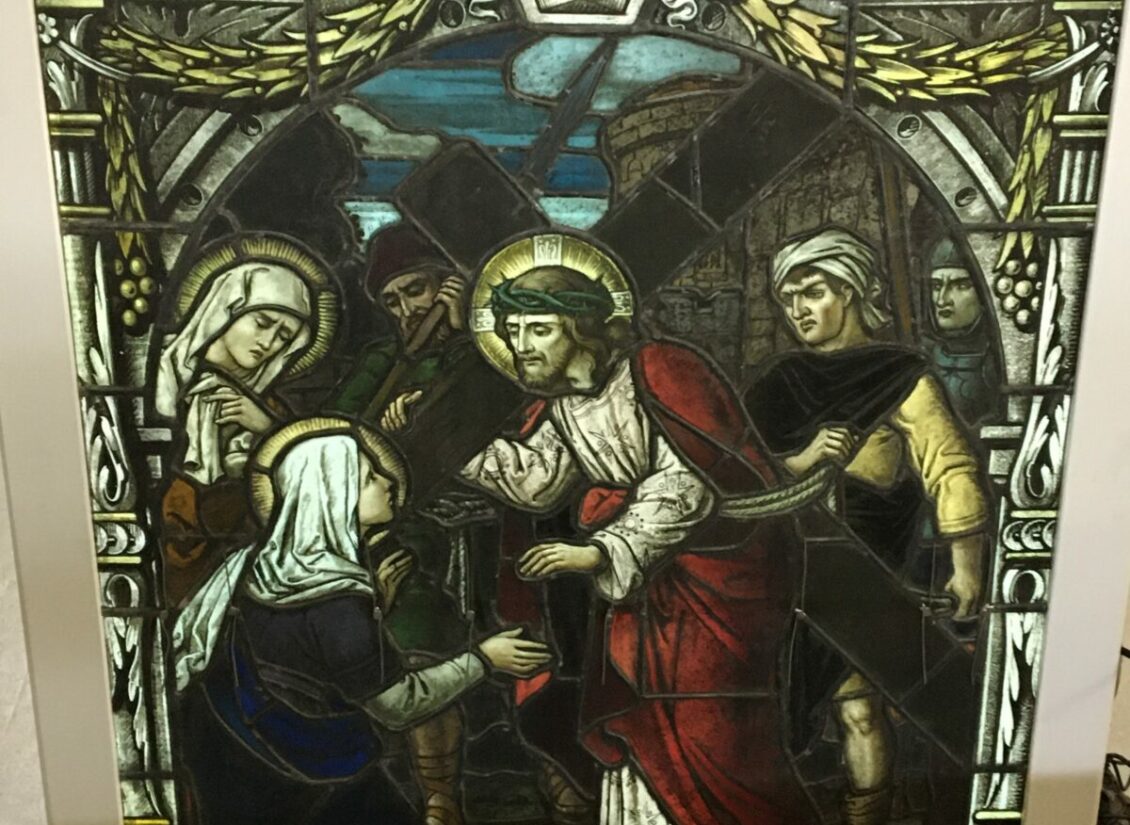 Stained Glass Backlighting
Our Media White Light Tape panels behind a hung stained glass fixture. The glass was too dark to see without illumination behind it.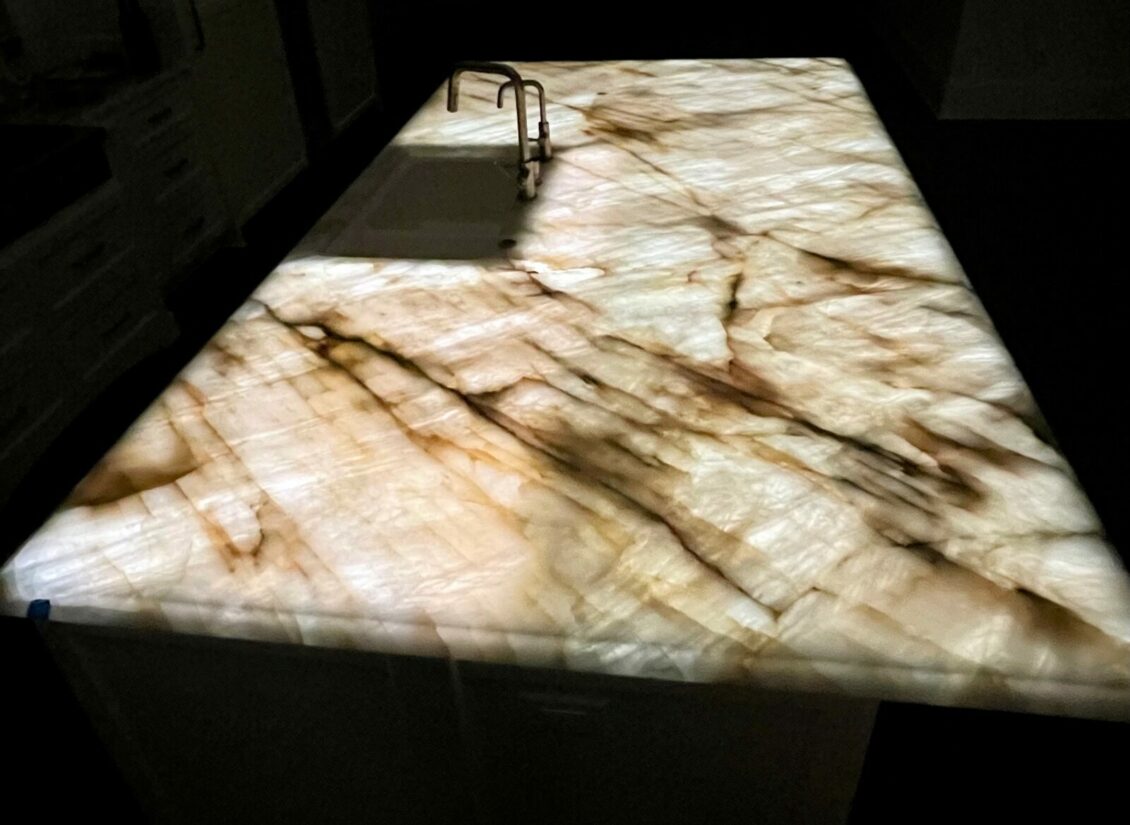 Cristallo Quartzite Island Top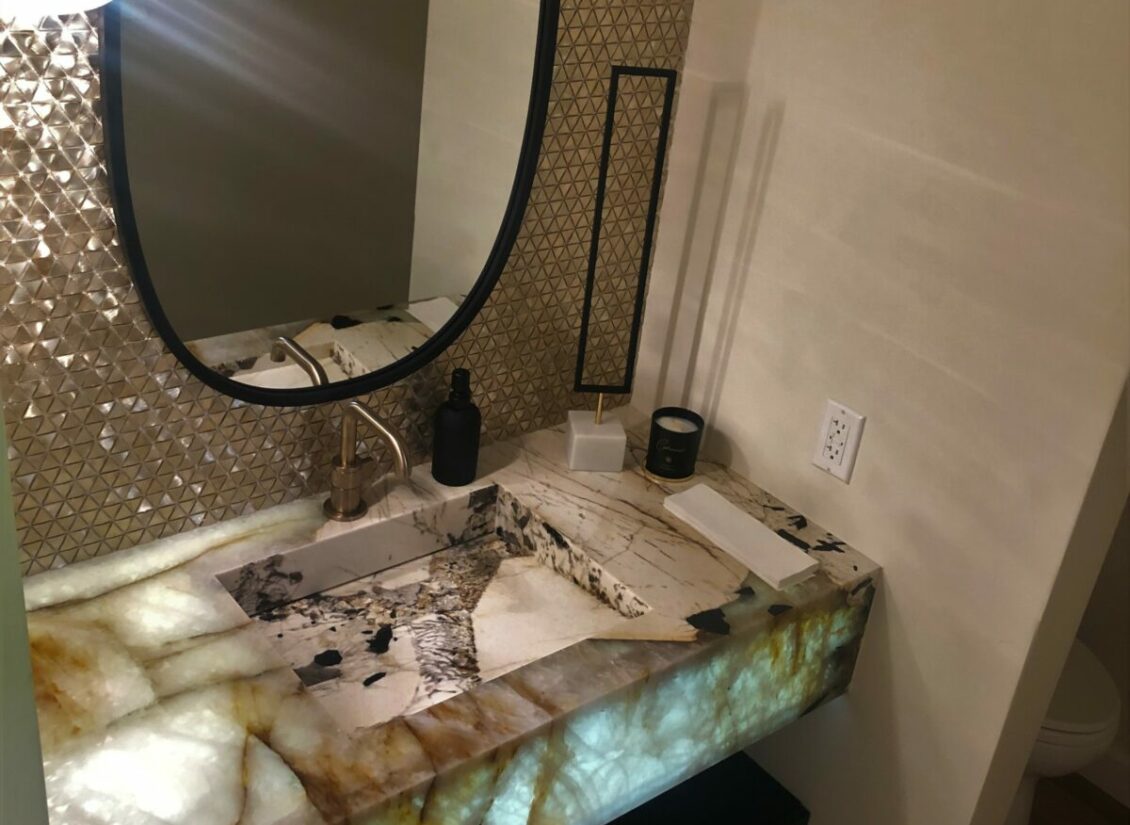 Patagonia Quartzite Bathroom Vanity
Our Media White Light Tape behind Patagonia Quartzite. The homeowner wanted the front edge, and the top of the stone lit to get a nice glow through the translucent vein. We easily cut the sink cutout and spec'd the connections for each panel to where were most convenient for the installation. This was two total panels. One for the top, and one for the front.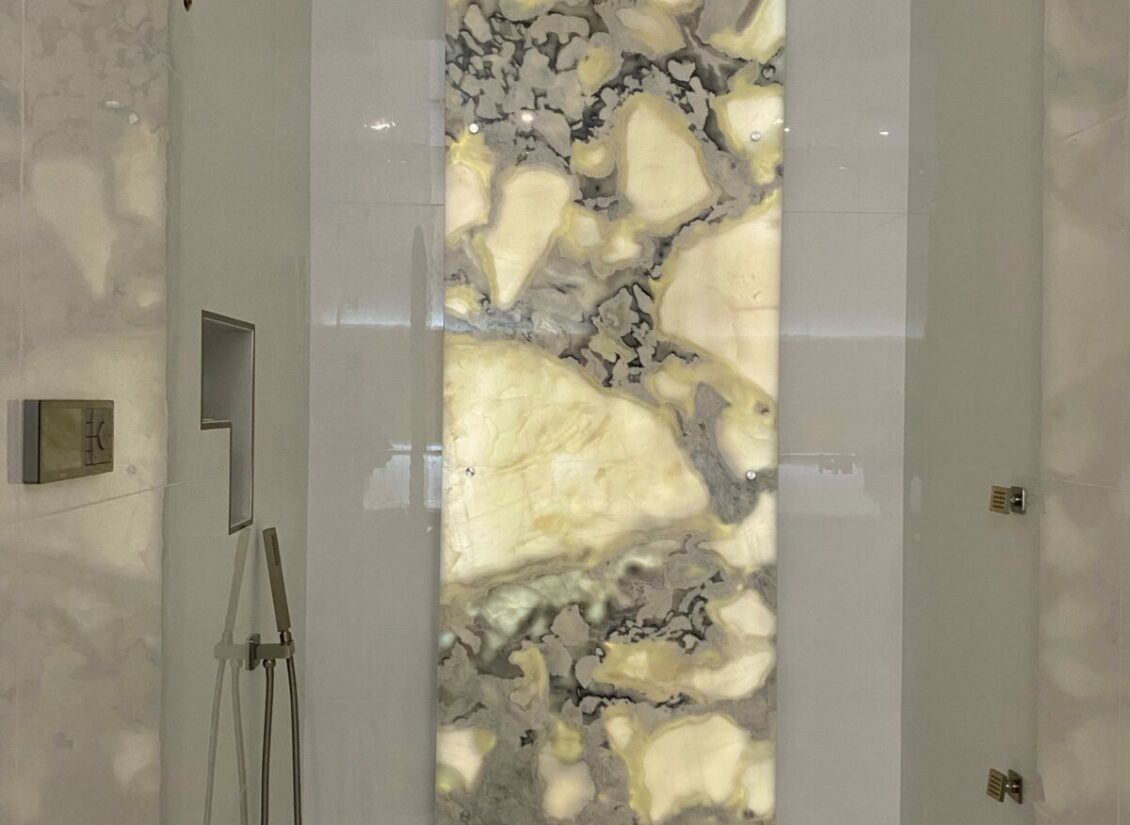 Marble Shower Wall
Marble Shower installation with our Glacier White panels for a nice warm glow. Shower wall's are a great use for Light Tape. Stanchions were use to mount the slab. For this, the contractor let us know where the stanchion holes would be, so we could cut them into the panel. This project was one panel, one connection, one power supply. We epoxied the connection to seal it and protect it further from moisture or water.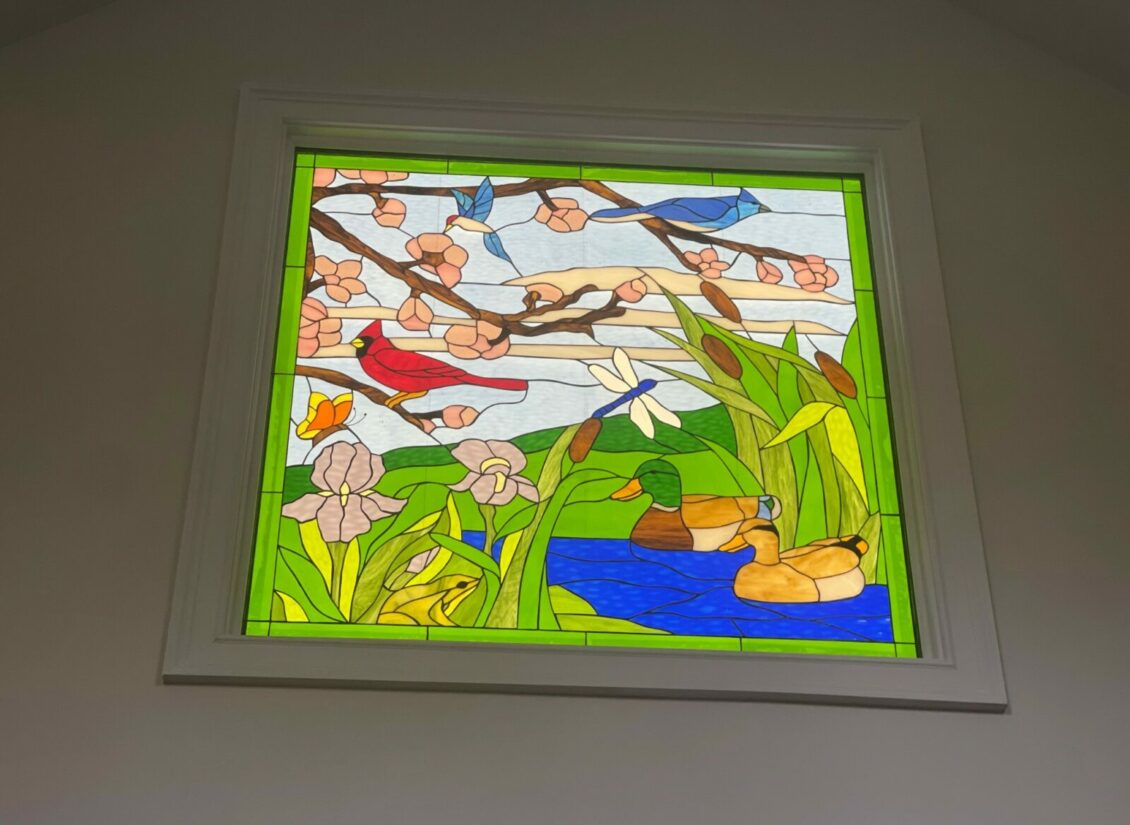 Stained Glass
Our Media White Panels evenly lighting a stained glass piece. There's no worry that the glass won't light evenly. Our panels will make the colors pop and not wash out.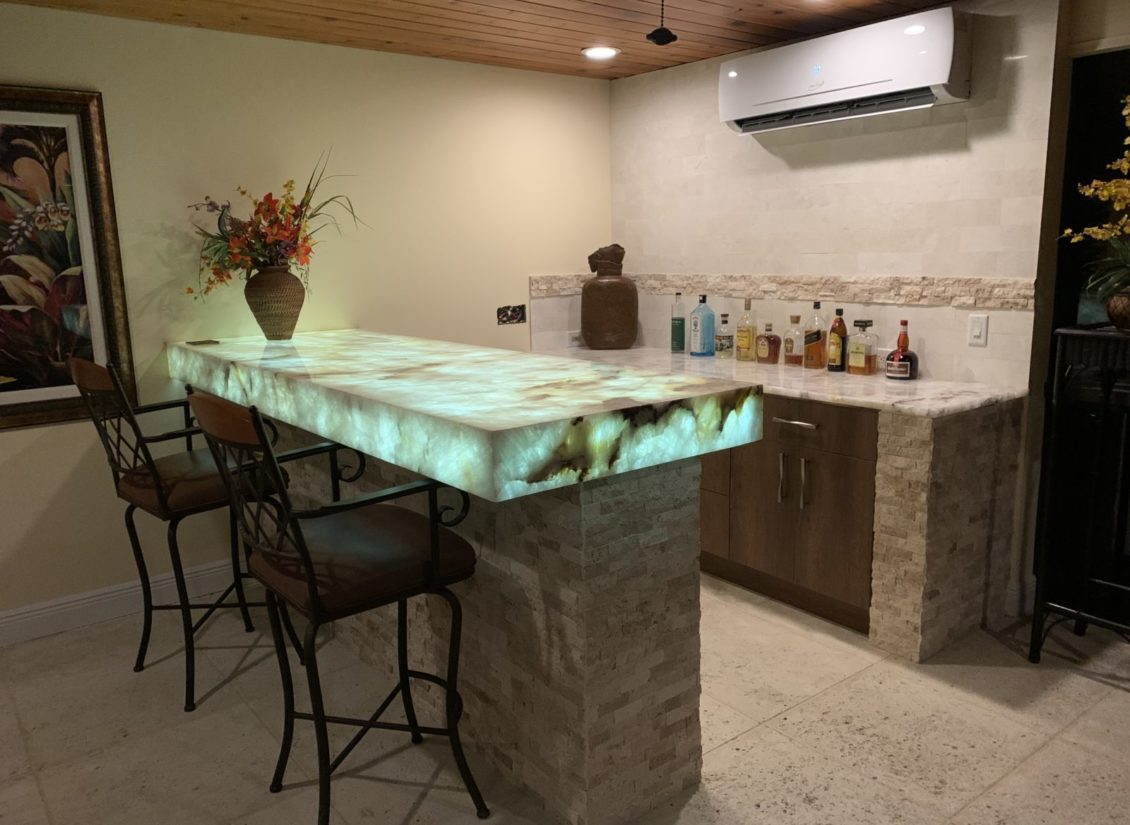 Cristallo Quartzite Home Bar
This home bar features a 4" mitered edge, the homeowner also wanted illuminated. In order to acheive this, we separated 3 additional strips to fit along the side of the bar facing out. Because we have flat connector tabs, installing them was effortless.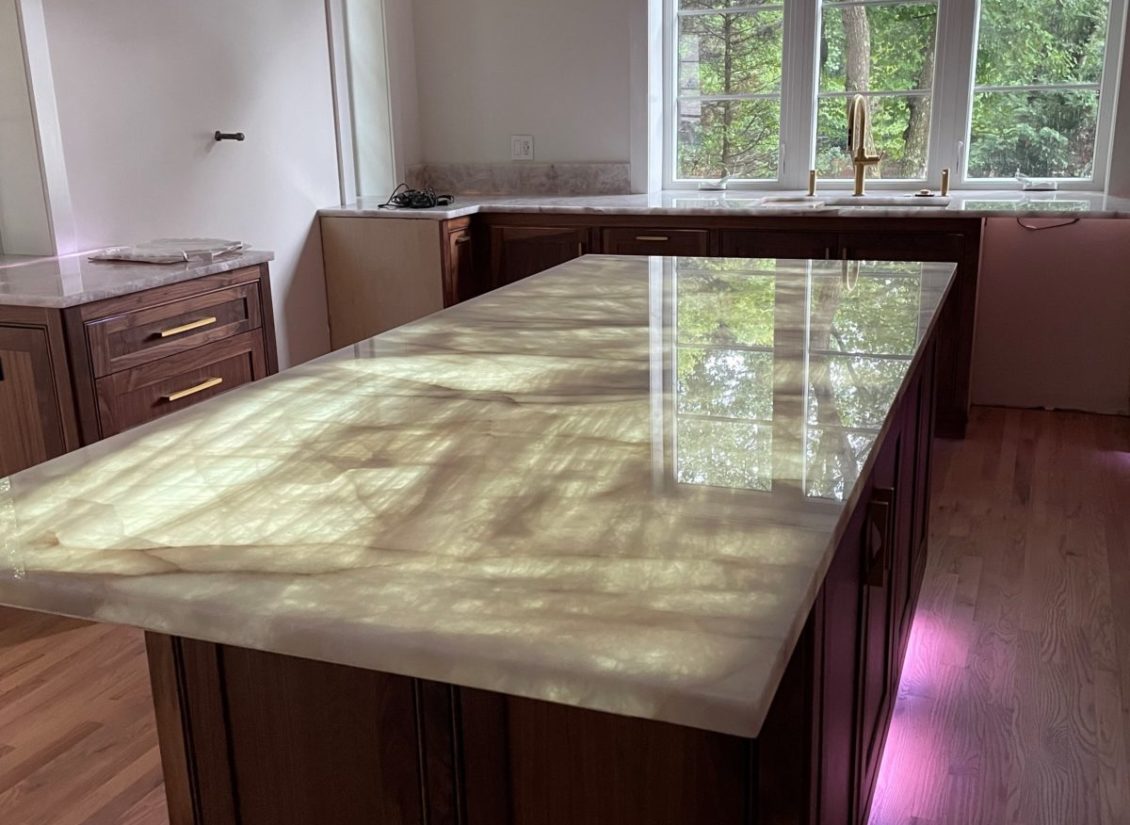 Cristallo Quartzite Kitchen Island
We worked with the contractor on behalf of the client to light up their kitchen island. Their stone fabricator mentioned how beautifully Cristallo lights up, and after trying a bit with LEDs only to find hot and cold spots, we were called in to help. We made two panels to overlap side by side, and as shown, there's no break in the light and creating a stunning glowing effect.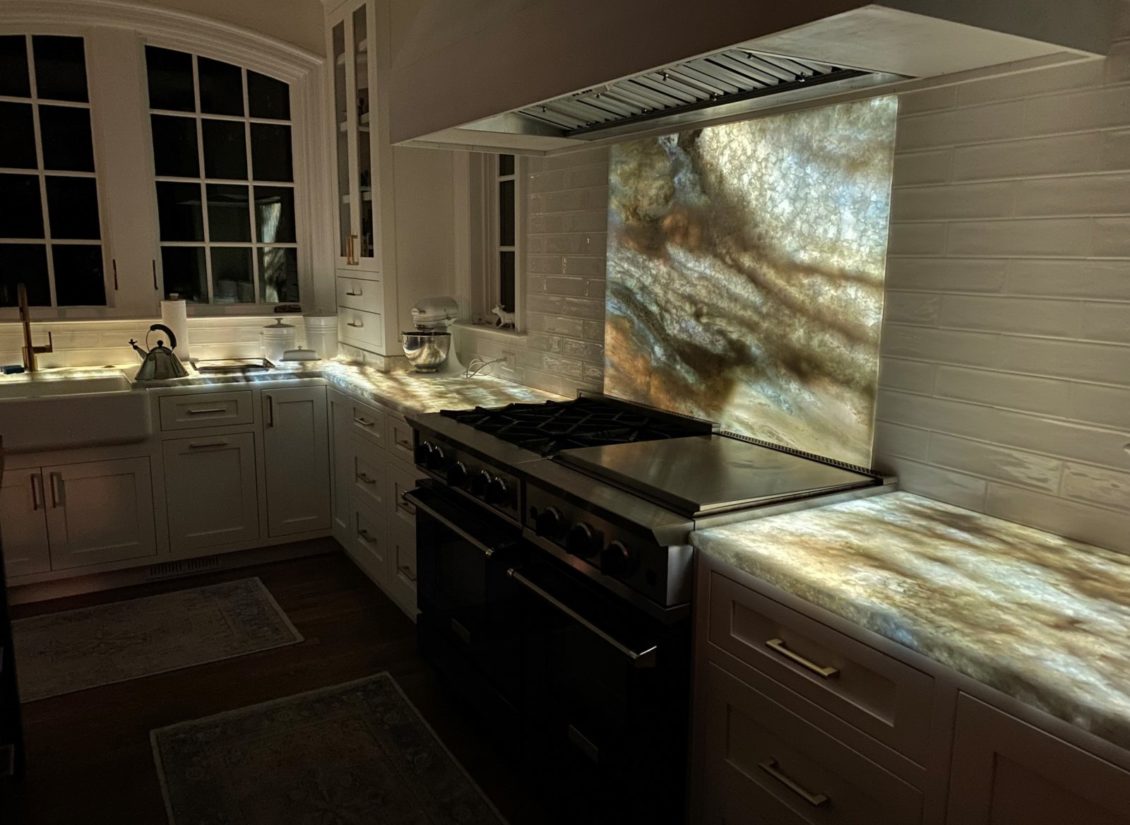 Iceberg Blue Quartzite Kitchen
We worked with the homeowner and contractor to perfectly plan each piece. There were gaps left in the substrate to shim the stone so the stone installers had no issue. The wall piece was added at the very end, as they wanted to highlight an accent above the range. We worked with Empire Marble and Granite in Richmond, VA.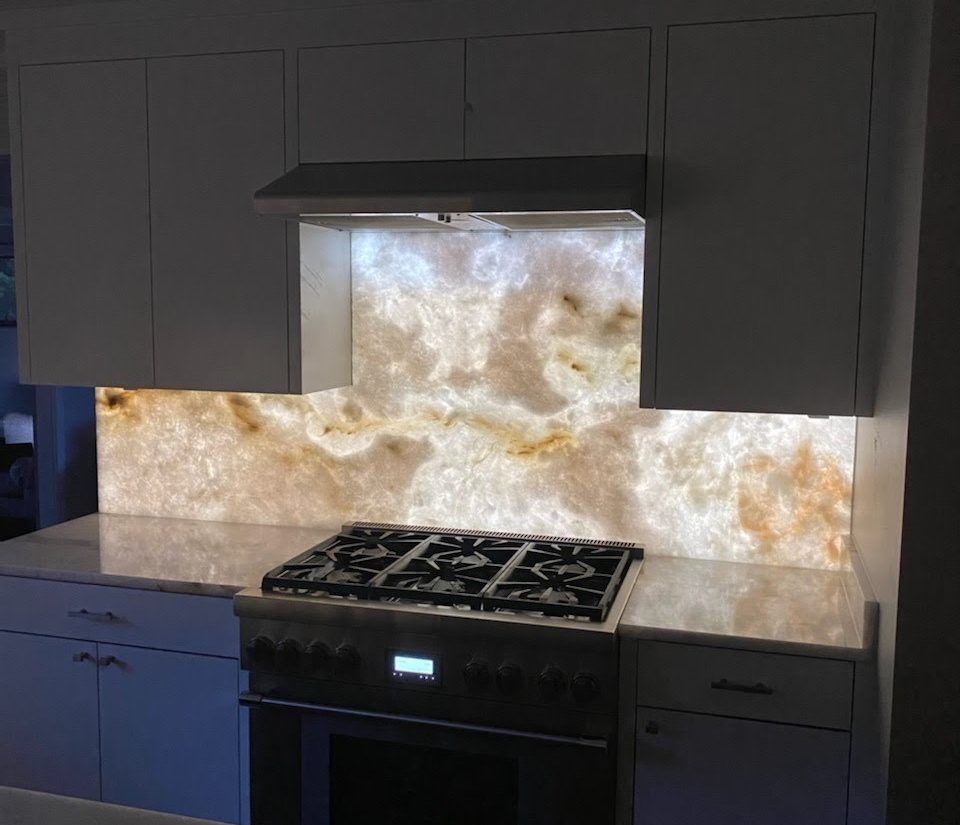 Residential Cristallo Quartzite Backsplash
The clients asked their contractor for help backlighting their backsplash. The contractor then reached out to us, and we worked with him to get the right sized Glacier White Light Tape panels to illuminate the backsplash. Double sided foam tape was used to adhere the Light Tape to a plywood substrate, and the surface was mounted over top with ease.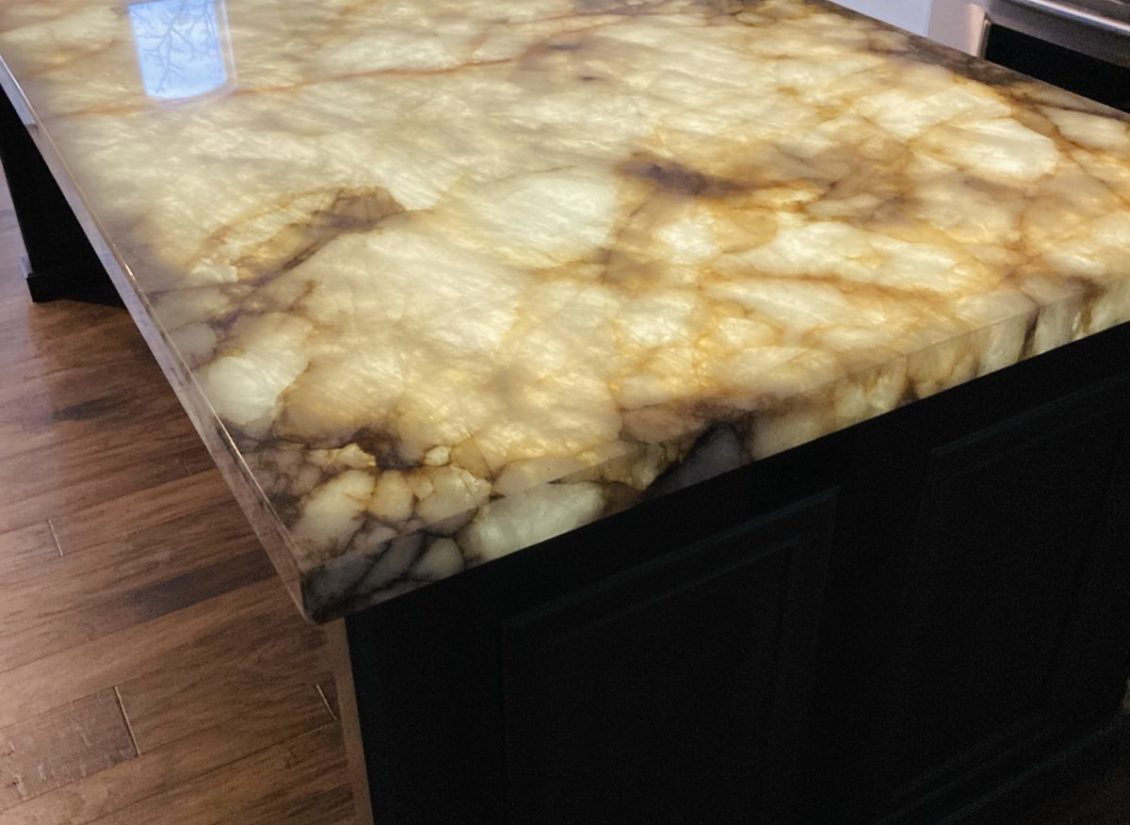 Quartzite Island Counter
We worked with Thomas Construction Company to get this quartzite island to shine beautifully with our Glacier White panels. The client wanted to light the mitered edge as well to create a full look which was very easy with our Light Tape strips. We worked closely with the contractors to make sure our panels fit perfectly into their island design.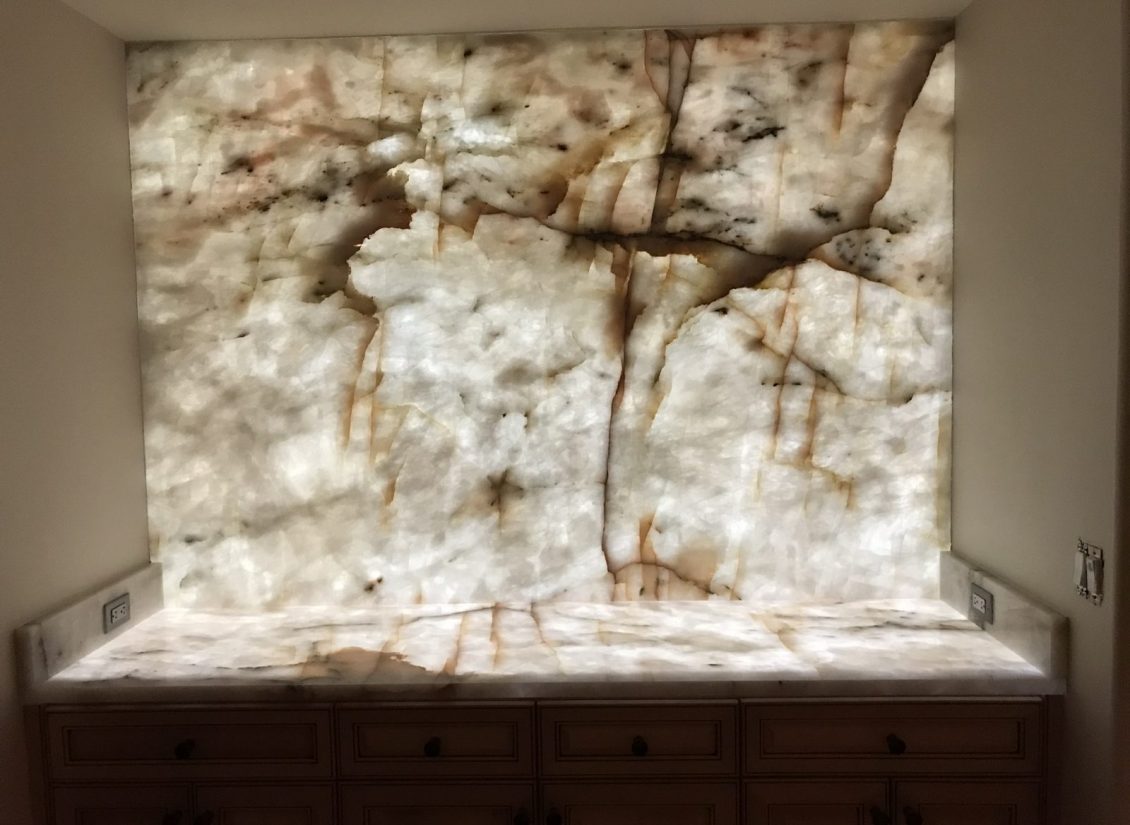 Quartz Wall and Backsplash
Home Quartz wall and backsplash perfectly illuminated with our Glacier White Light Tape® panels.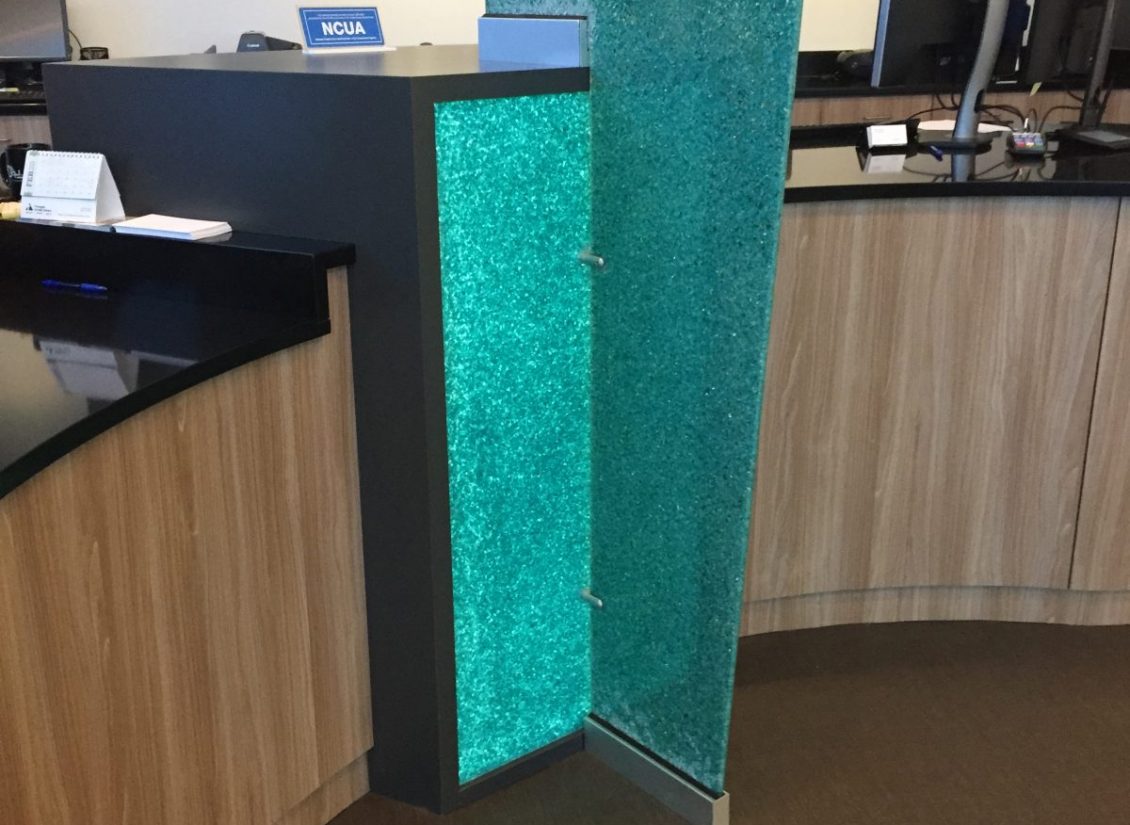 Backlit Lumicor Turquoise Recycled Glass
Small accent backlight in our Classic Media White. For this project, the designer wanted to bring life to their Lumicor Turquoise recycled glass. Light Tape is the perfect accent and backlight for any translucent solid surface. No hot or cold spots, easy installation, and no diffusion needed. You can press our Light Tape panels right up against your surface.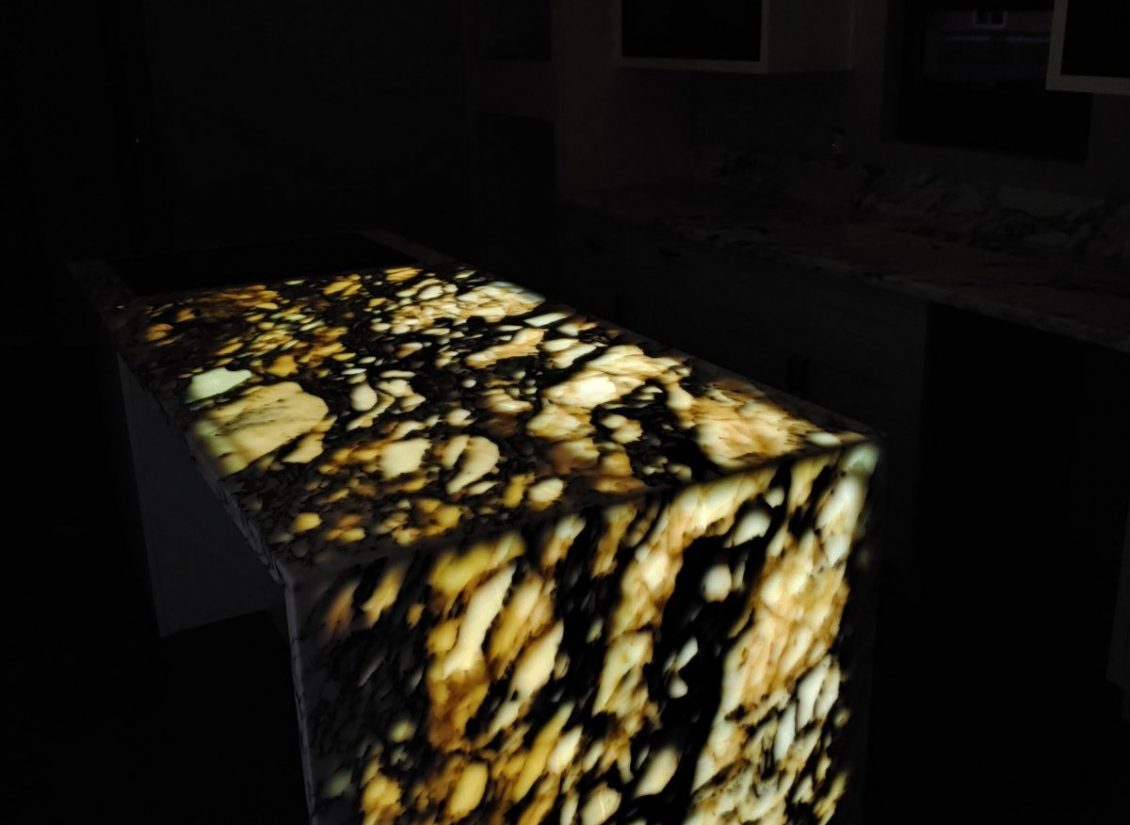 White Marble Kitchen Island
This client was looking to backlight white marble for his kitchen renovation. He didn't know where to start, or what he needed, but we quickly walked him through the process for what he would need to prepare to backlight his stone. For this specific project, our Classic Media White Light Tape® panels were used. The overall effect looks very warm despite using our cooler white panels. This is because Light Tape® is an accent light, and doesn't cast much unwanted light out. The rich amber tones in the marble were accented wonderfully with our Media White.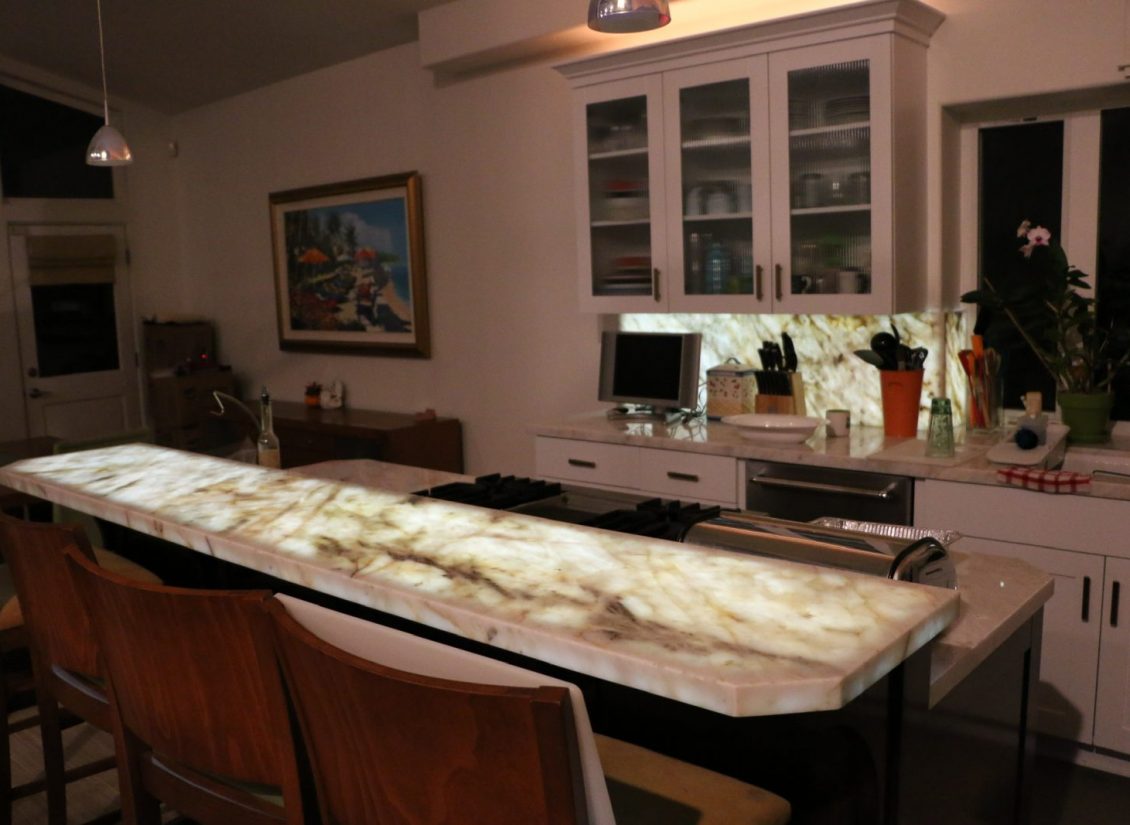 Quartz Kitchen Backsplash and Bar Backlighting
The homeowner reached out because he was renovating his kitchen, and was going from brown granite to translucent quartz. He hand drew us a template with his exact measurements on paper of the areas he wanted to backlight. We were able to cut everything for him per his measurements. If you're a homeowner and don't have a professional template that's not a problem. The color featured here is our Classic Glacier White. The glow around the mitered edge of the bar top was achieved by adhering a 1/2" Glacier White Light Tape® strip to the perimeter of the subsurface behind the stone.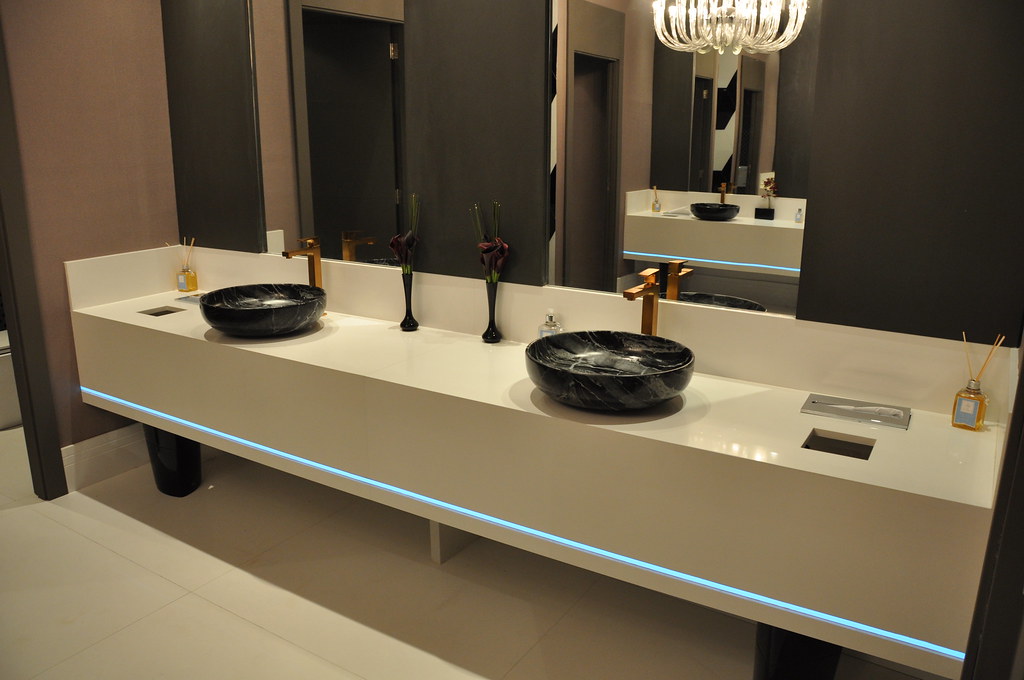 Bathroom Accent Light
Our 1/2" Media White Light Tape® strips are shown here adding a crisp accent light to this elegant bathroom design.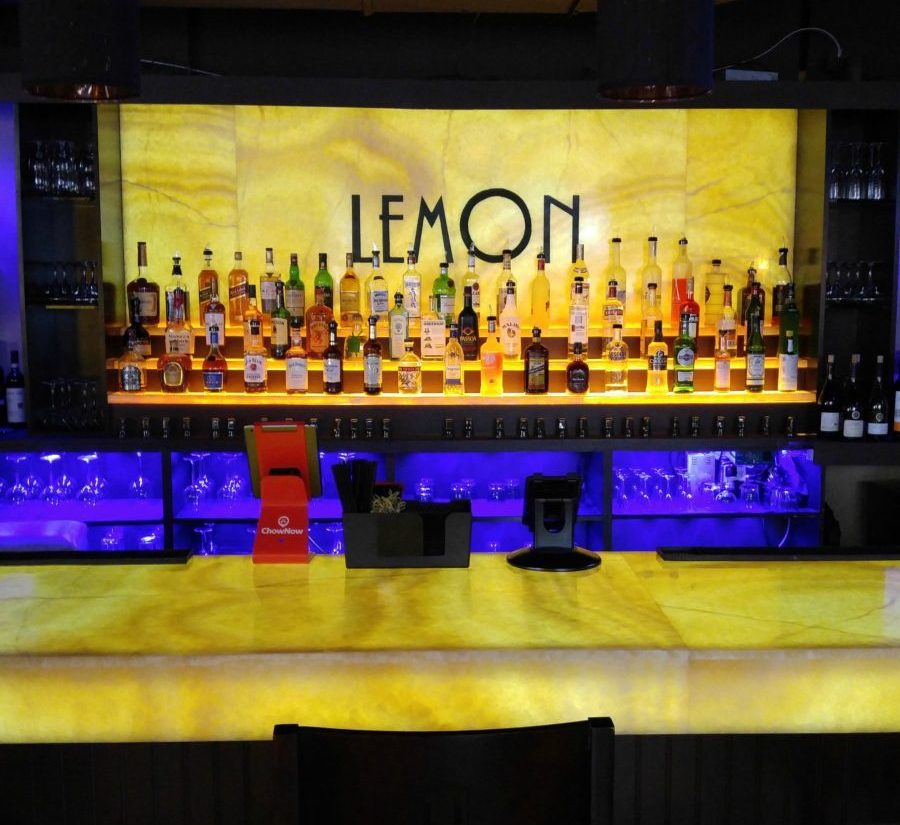 Lemon Indian Restaurant - Washington, DC
Our Classic Media White Light Tape® panels under onyx. Media White is a great choice for onyx if you want to bring out those crisp yellows in the stone.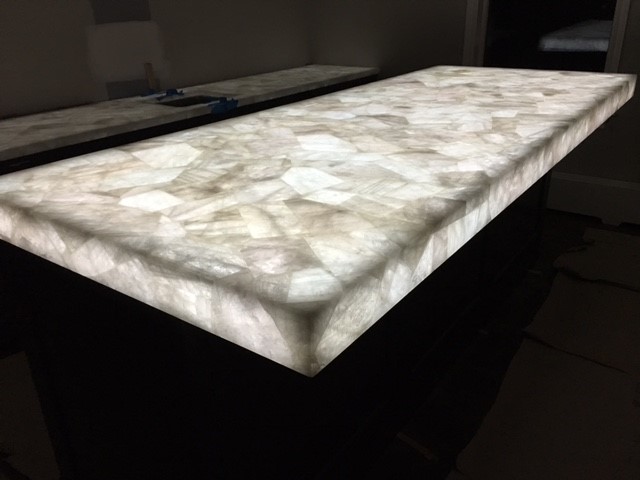 Crystal Quartzite Bar Counter
Our Glacier White Light Tape® panels and strips here were used to light up this bar counter in a private residence.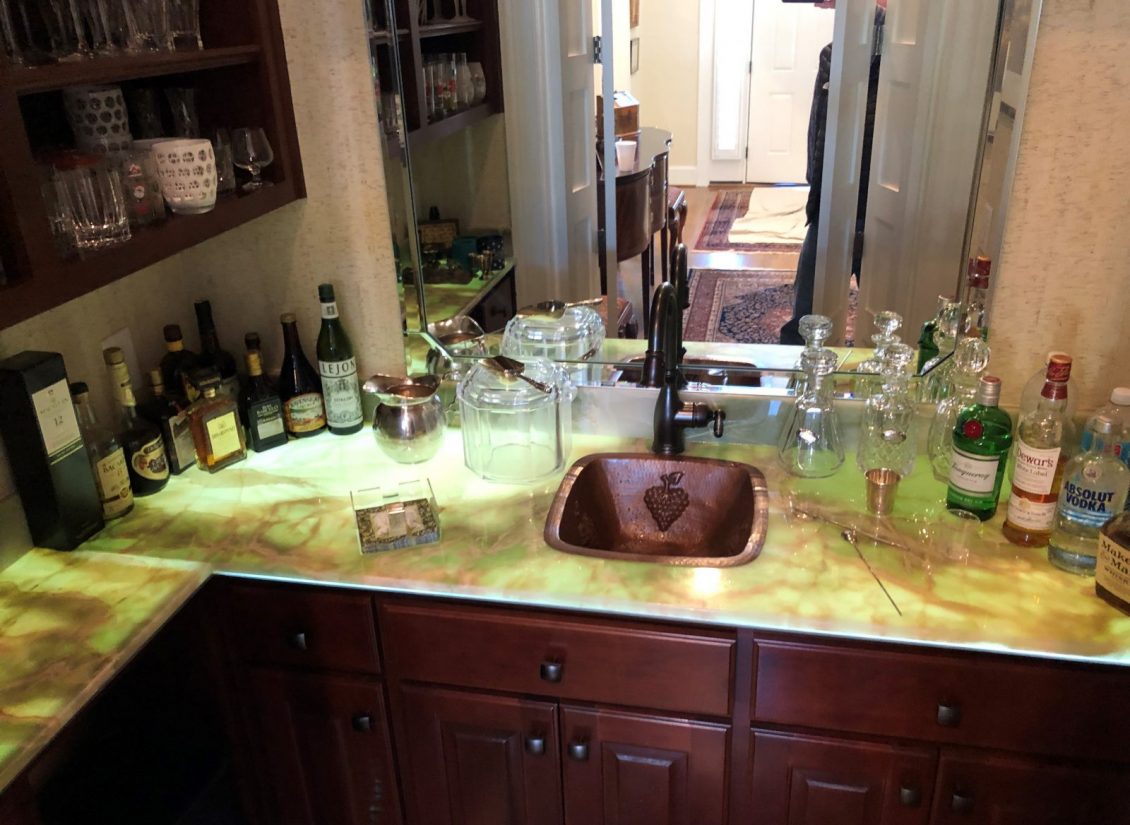 Backlit Onyx Home Bar
Our Classic Media White Light Tape® panels behind this backlit bar in a private residence. The homeowner wanted to bring out the texture of the stone.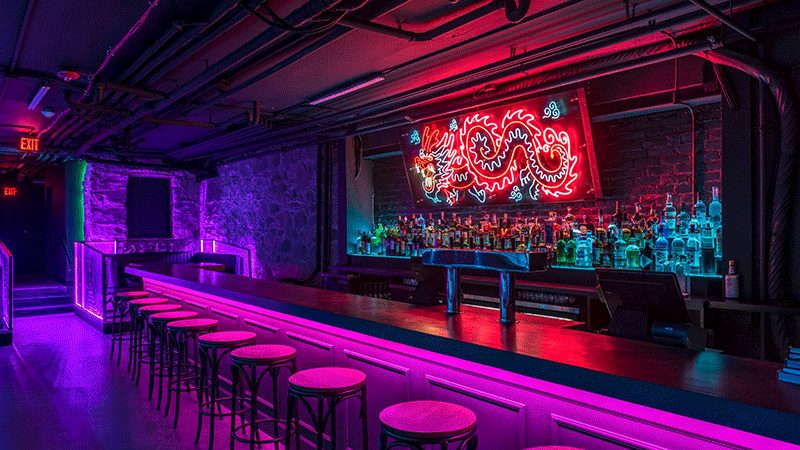 Lo-Fi Bar - Backlit Bar Shelves
Our 4" Natural Blue Light Tape® used here to backlight bar shelves. Light Tape® is the perfect backlight for glass shelves because unlike an LED alternative, it doesn't require a buffer or diffusion. The glass can be set right over top of it.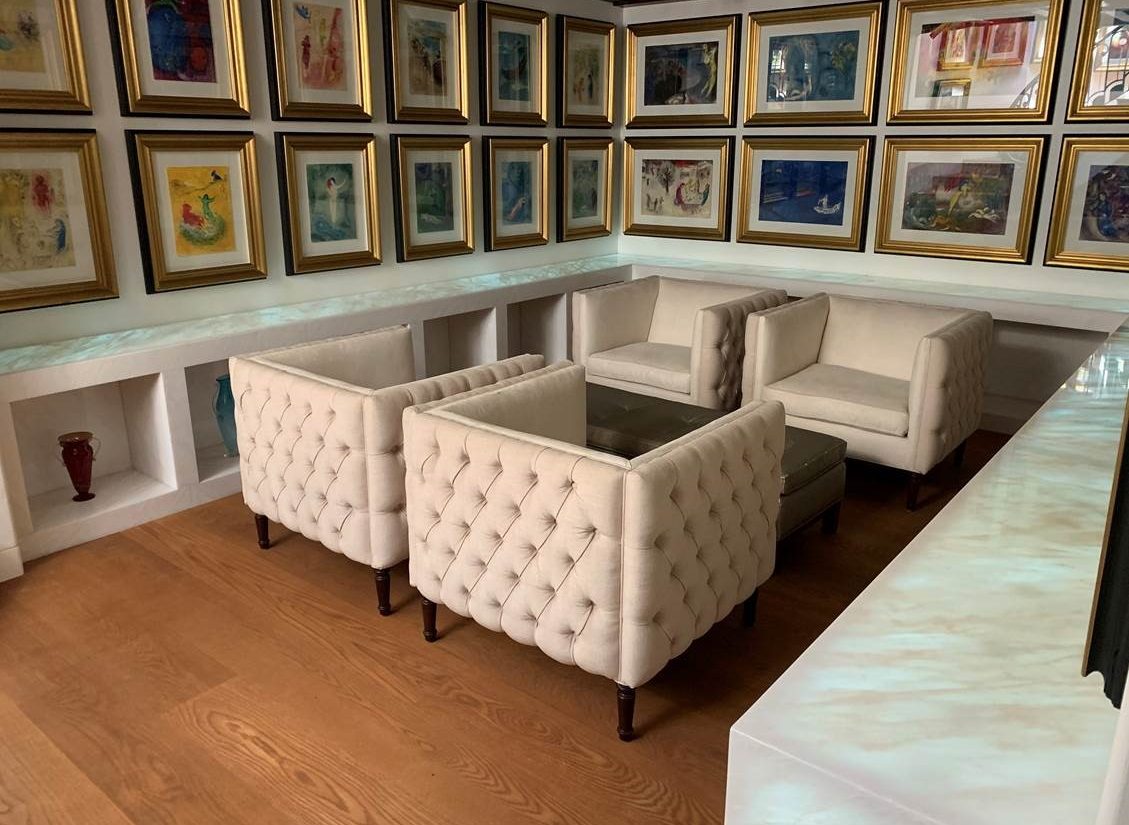 White Onyx Backlit Shelf
The designer wanted a cool accent light to highlight the veins in this white onyx. Our Classic Media White Light Tape® was the perfect solution to bring out those cooler tones while our Glacier White would have brought out those warmer tones.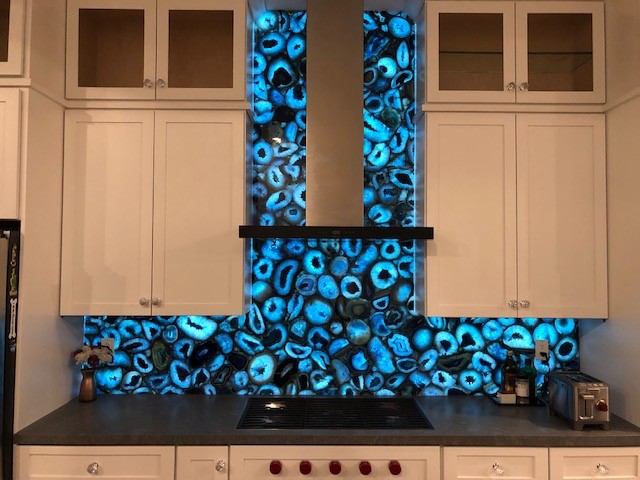 Backlit Blue Agate Backsplash
Our Classic Media White Light Tape® panels behind this Blue Agate backsplash in a private residence. The homeowner wanted a solution that would really make the stone pop.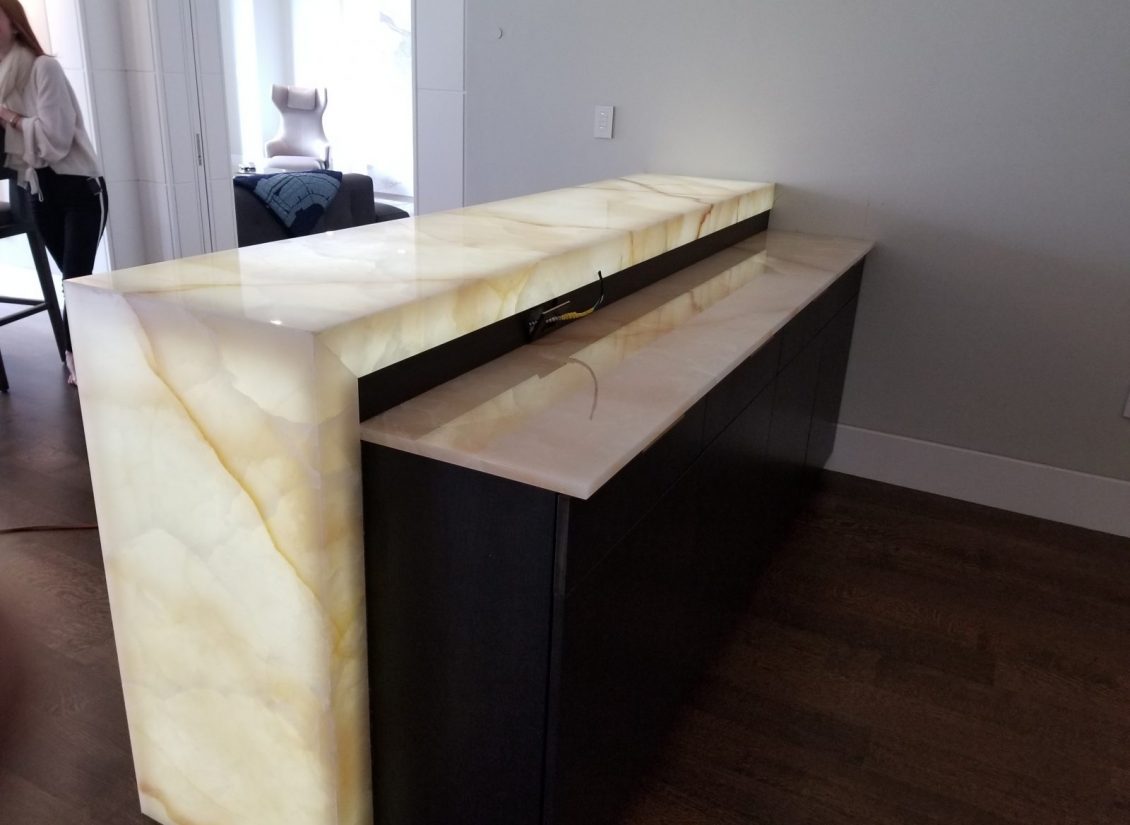 Onyx Backlit Bar
Our Glacier White Light Tape® under this gorgeous onyx bar really brings out the amber and warmer tones in the stone.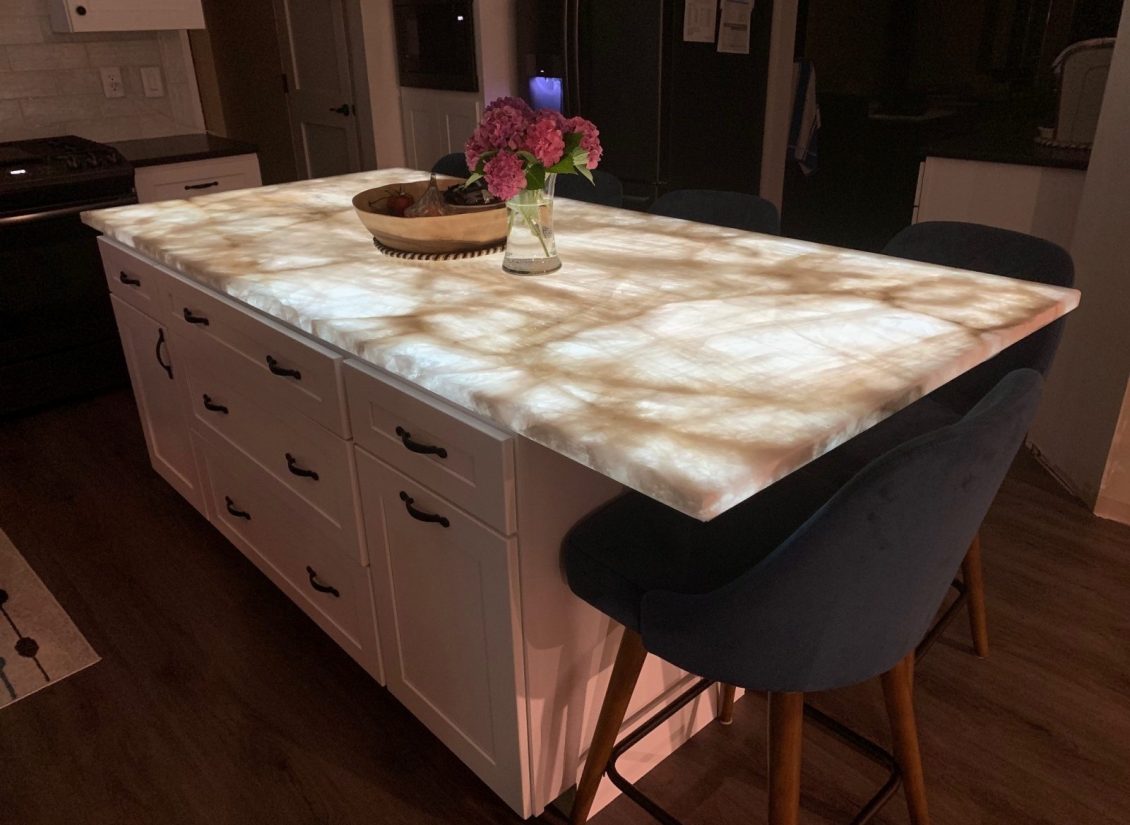 Crystallo Island Top
Backlit Crystallo Quartzite island top in our Classic Media White Light Tape®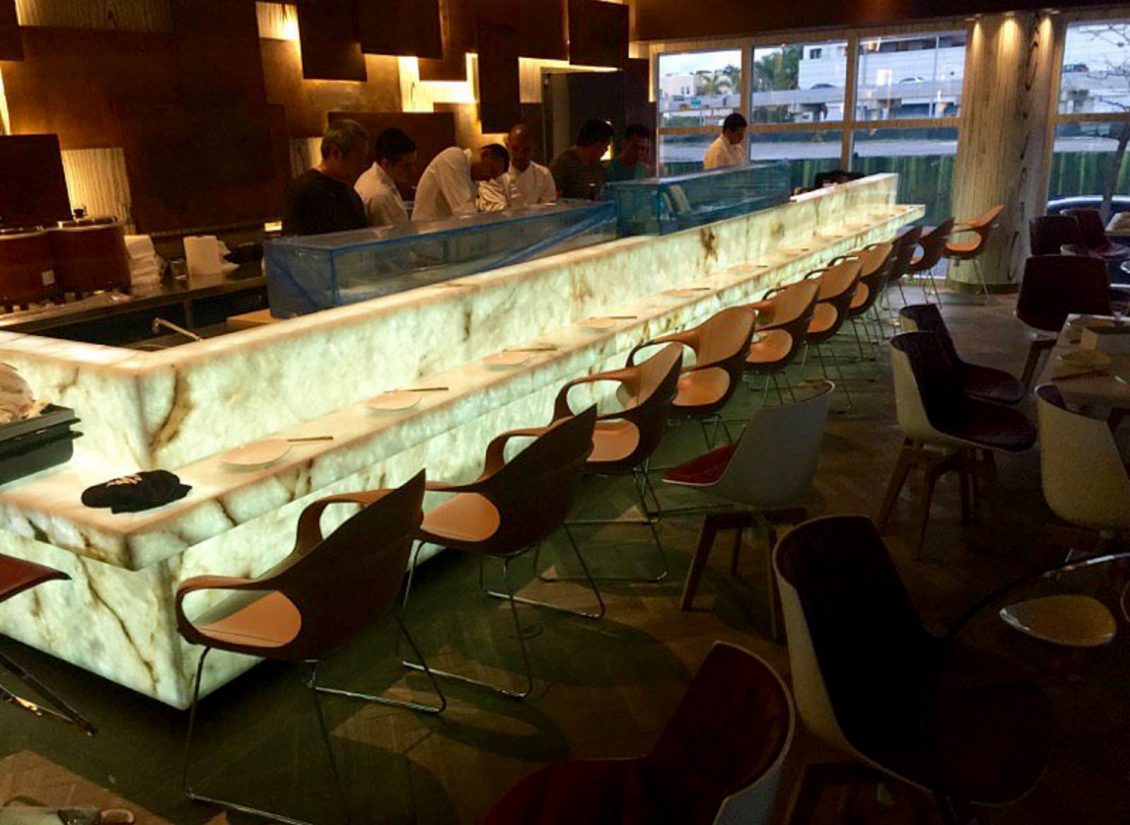 Soho Sushi Bar
Media White Light Tape panels for this upscale sushi bar and restaurant under onyx.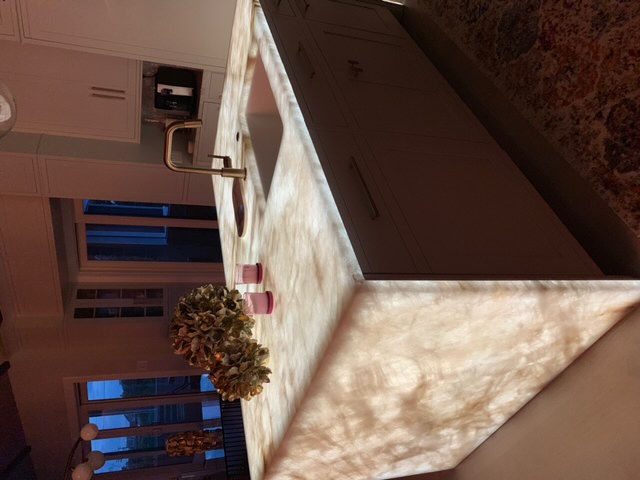 Quartz Island - Cole Brothers
Glacier White Light Tape under this Quartz counter with seamless waterfall edges.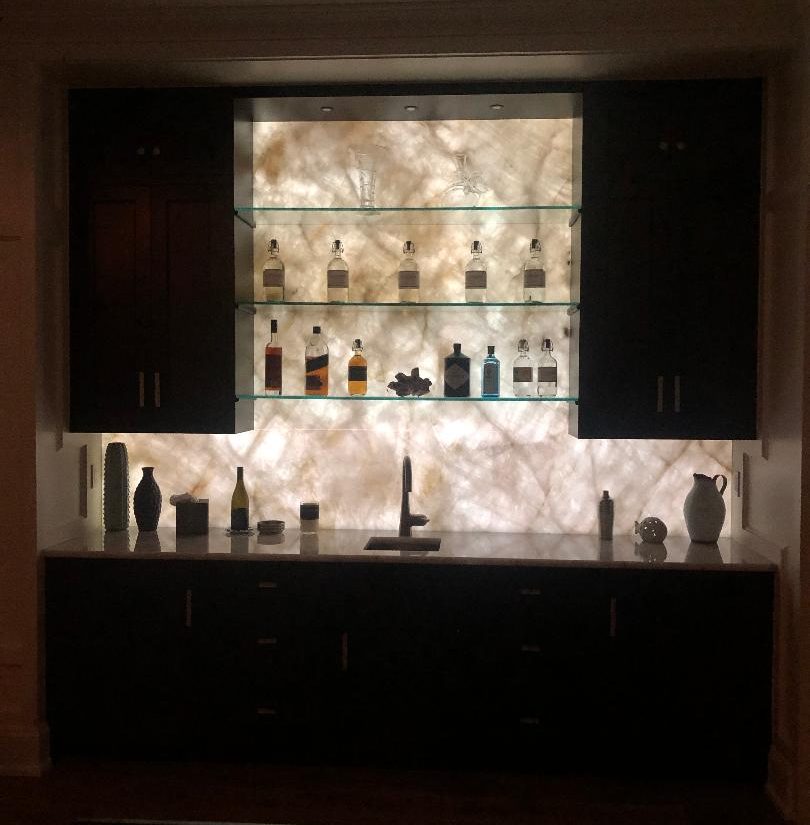 Cristallo Quartz Home Bar Back Wall
Glacier White Light Tape behind Cristallo Quartzite vertically mounted for this beautiful home bar.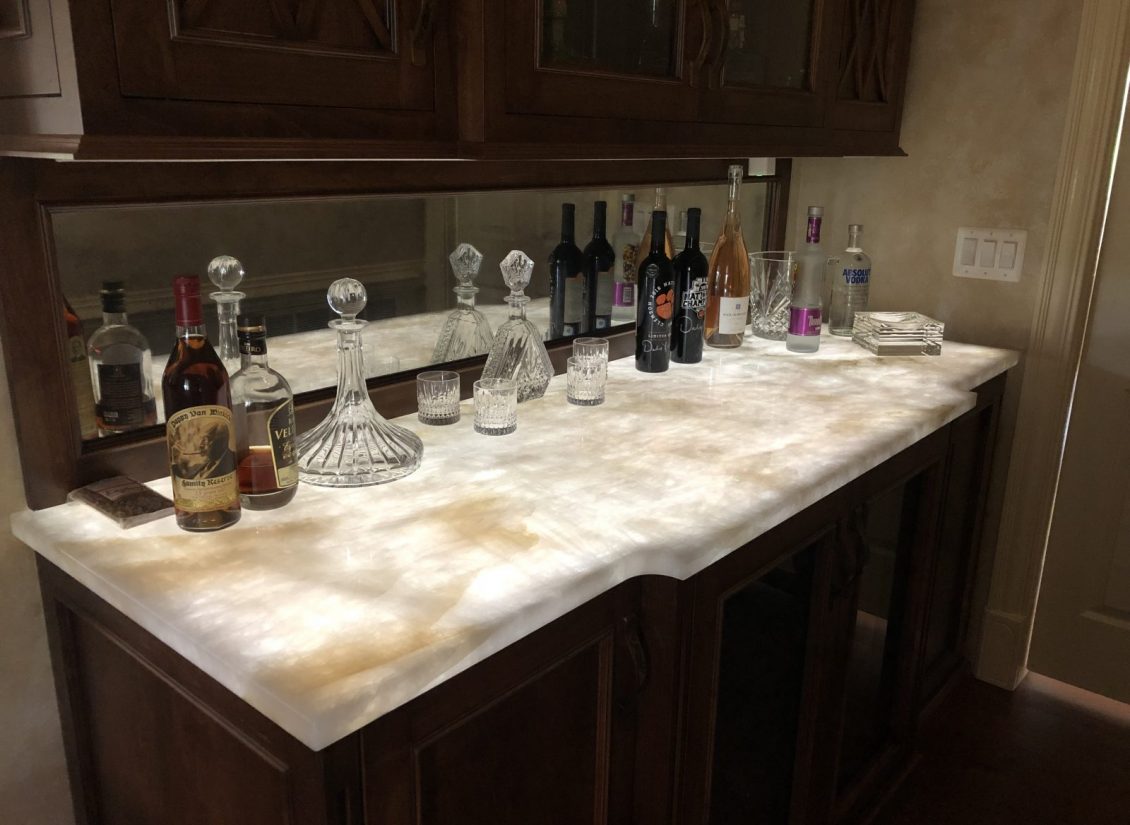 Quartzite Bar Top
Our Glacier White Light Tape under Quartzite for a custom home bar top.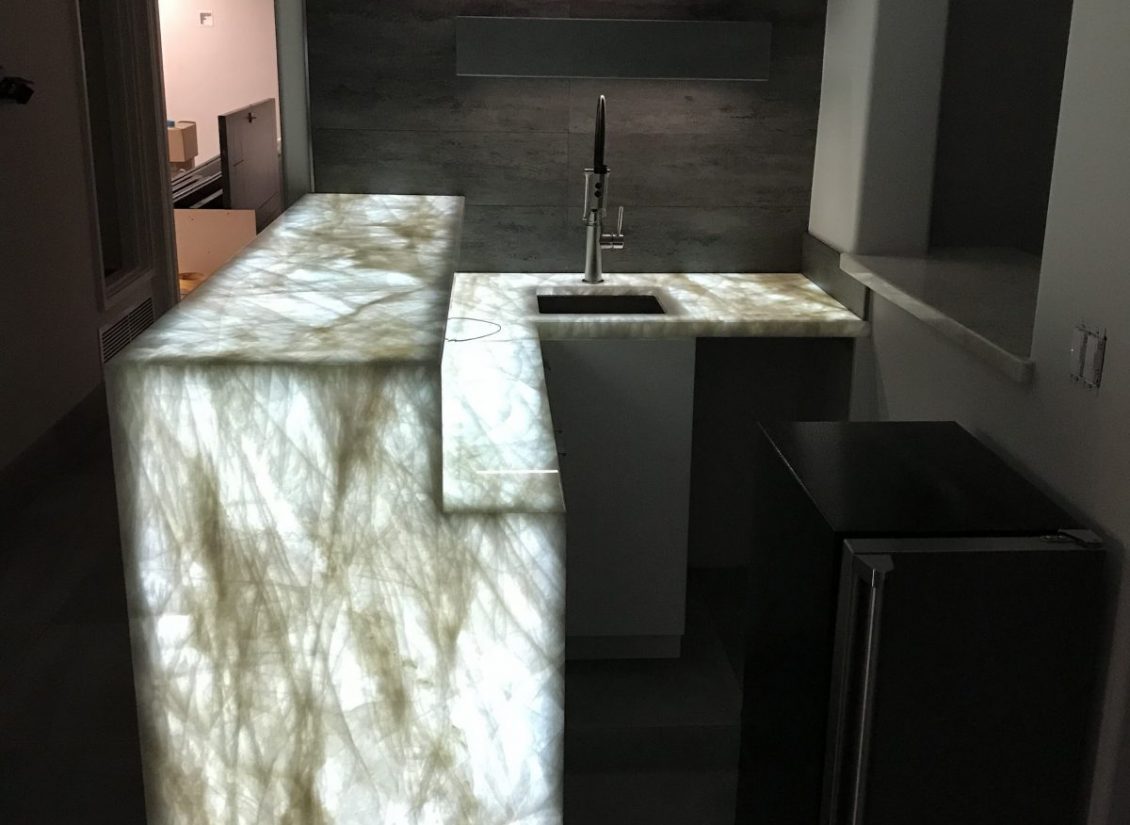 Quartzite Private Home Bar
Glacier White Light Tape® Panels were used in this stunning private bar installation under quartzite counters courtesy of Bluefire Home Audio.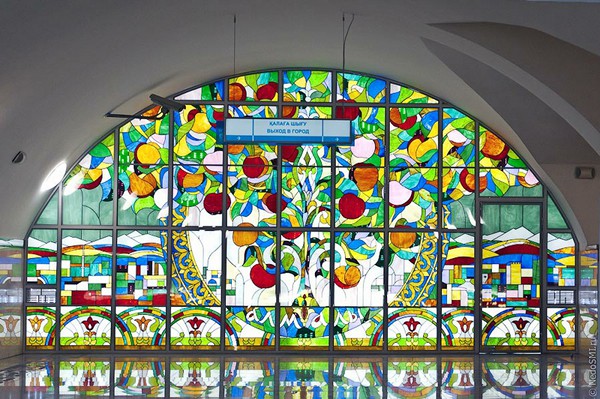 Kazakhstan's Almaty Subway Station
Media White Light Tape® panels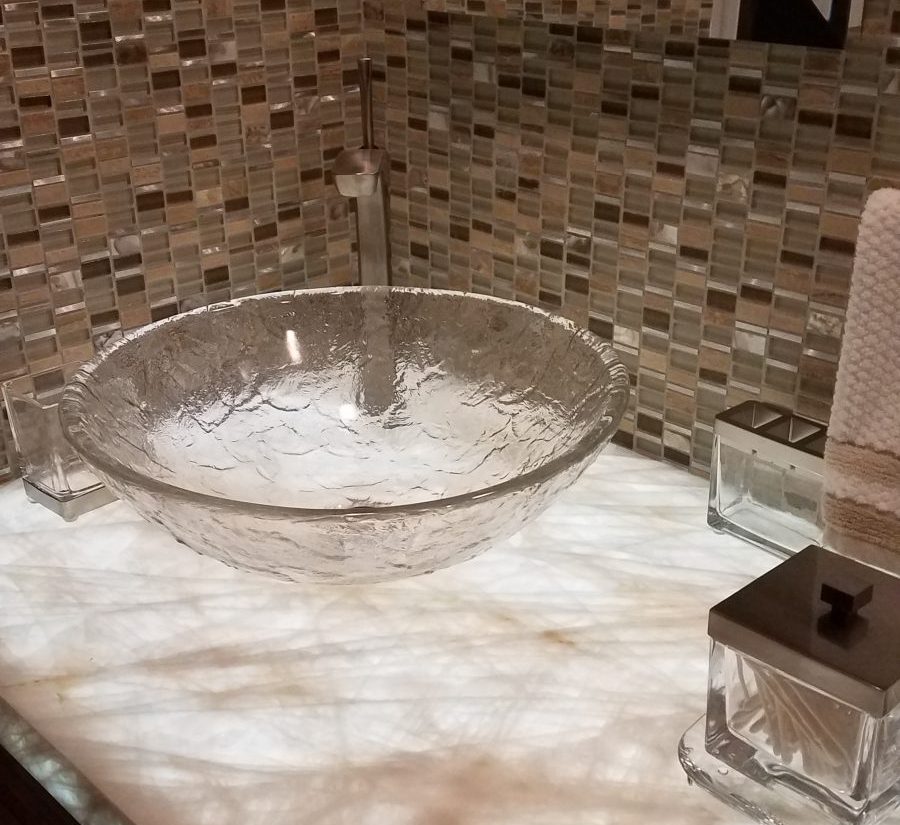 Bathroom Vanity
Glacier White Light Tape® under Cristalo Quartzite for a residential home in Florida. Installation and stone was provided by Jupiter Granite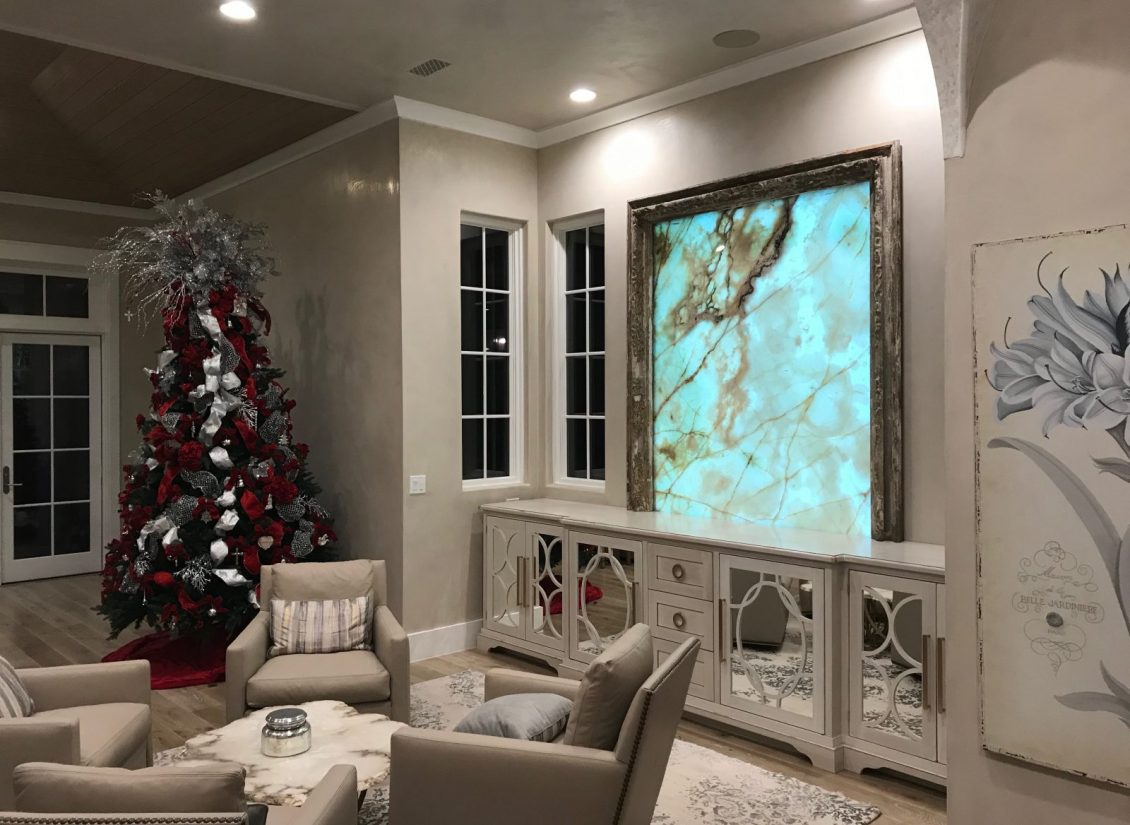 Onyx Backlighting - The Iron Grove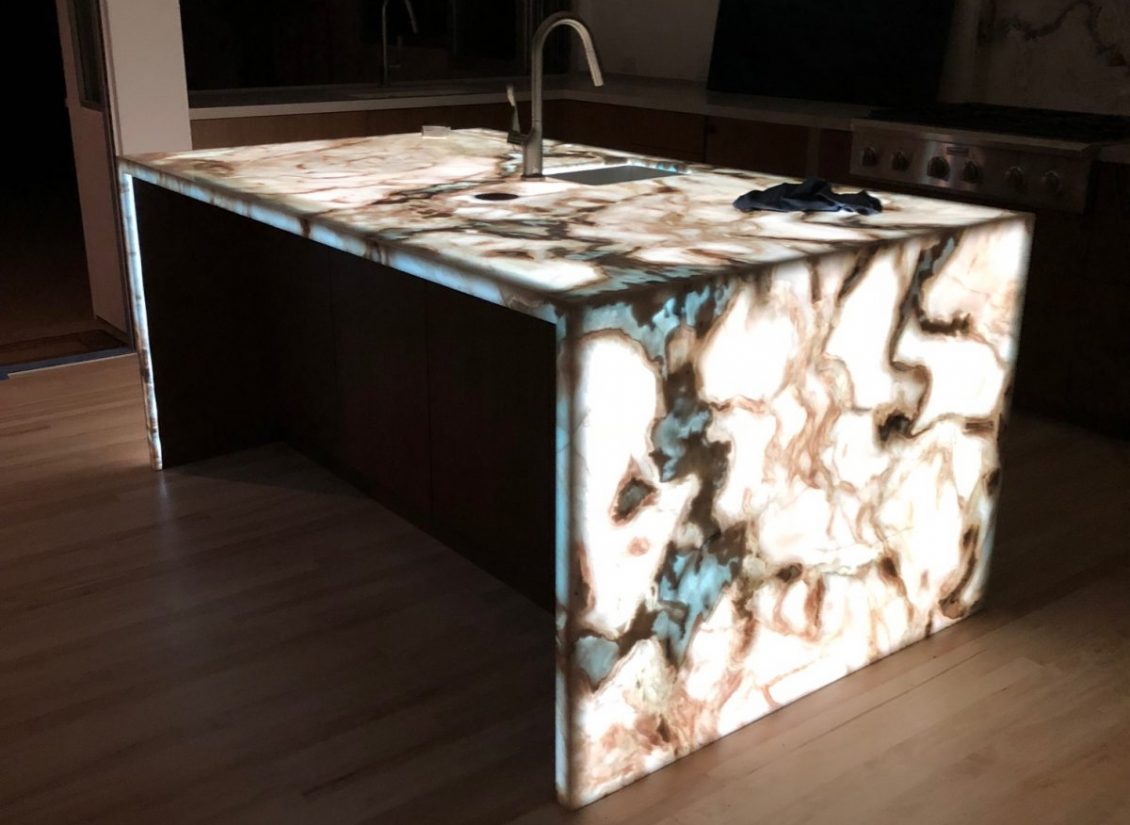 Backlit Crystallo Quartzite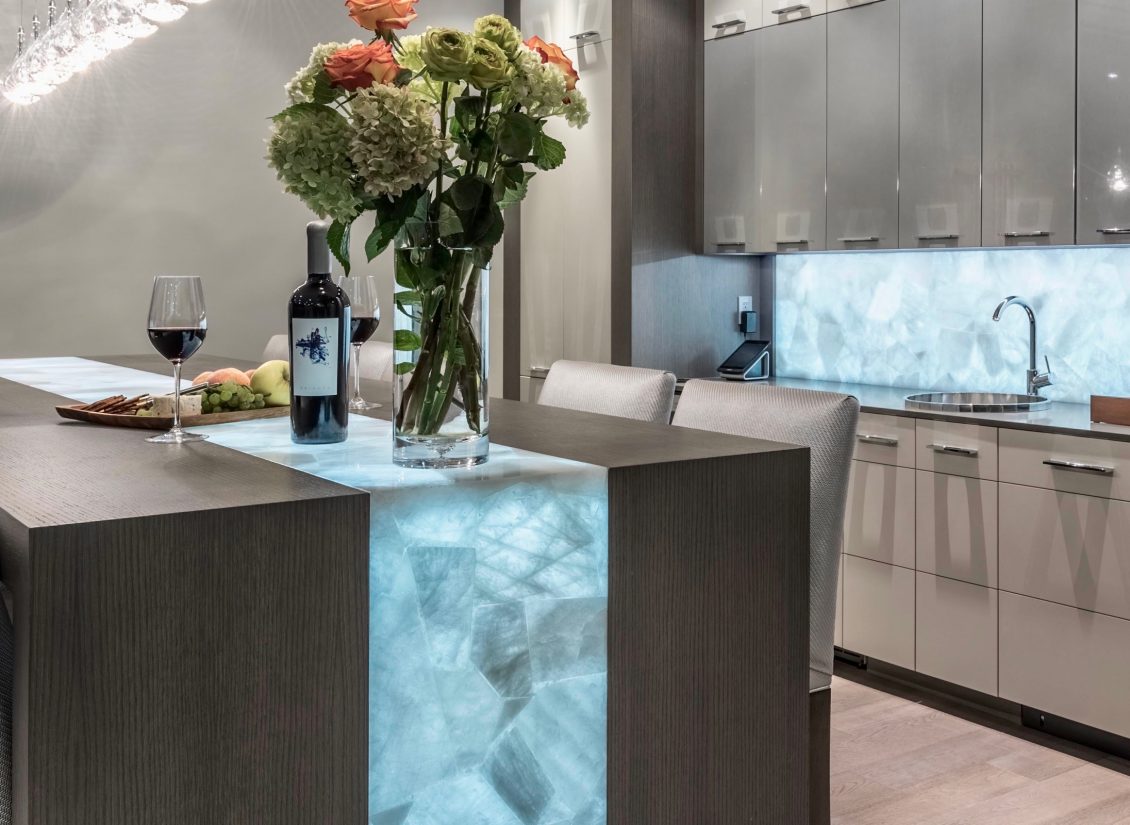 Quartz Backlighting - Bercum Builders
While looking for the perfect way to bring our client's vision to reality, Light Tape® was sourced as the product of choice. Backlighting with Light Tape® brought the hidden details of the bar and backsplash to life. The light captures and highlights the colours and layers that form the stone. When illuminated, the combination of the Light Tape® and translucent stone help create a luxurious focal point for the room. - Bercum Builders.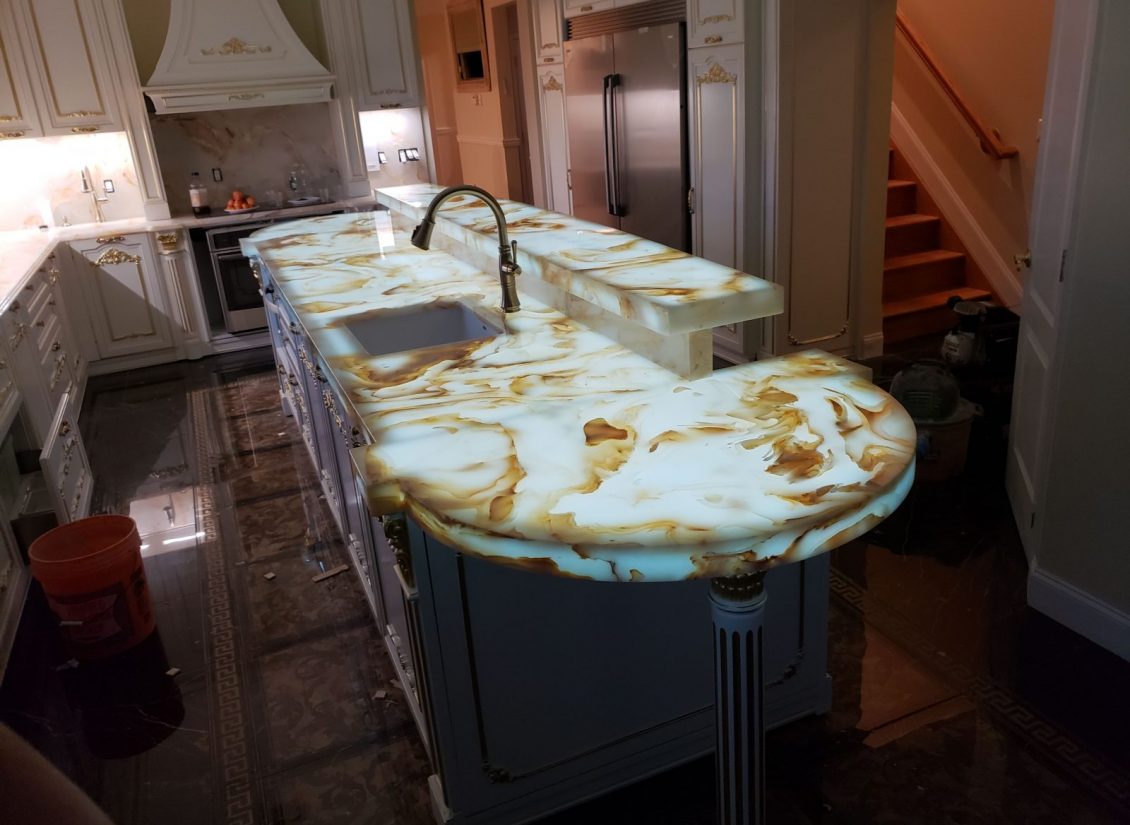 Kitchen Backlighting - New Jersey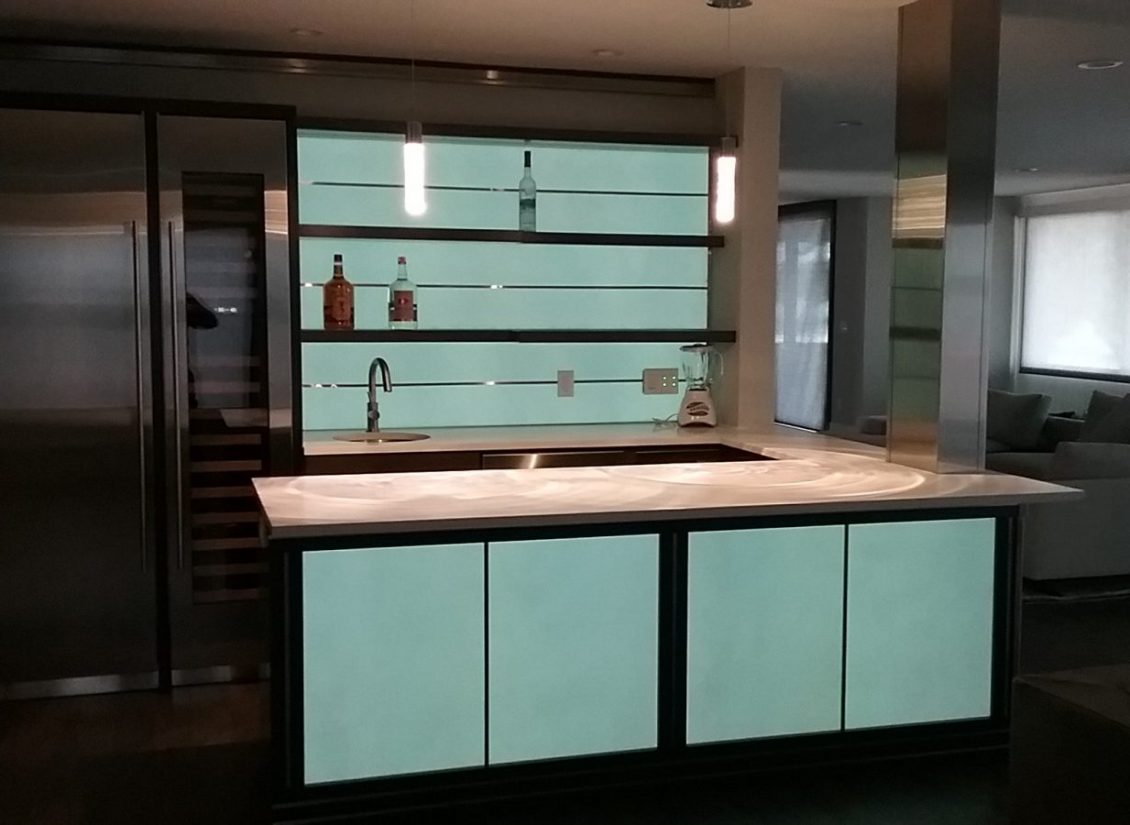 3Form Chroma Noir Backlighting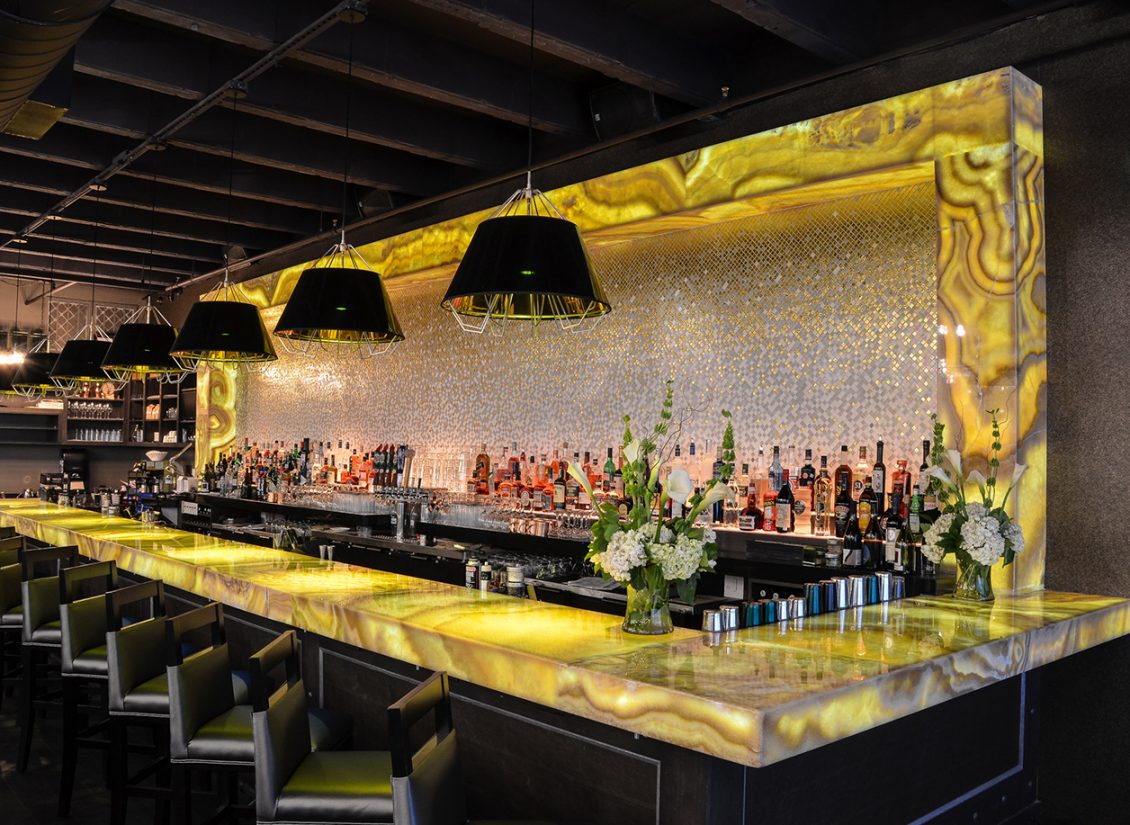 Belle & James Backlit Honey Onyx Bar
The Bella & James restaurant bar beautifully illuminated with Light Tape® solid panels- creating and showcasing a beautiful and sophisticated main design focal point of the unique characteristics of the bar's surface.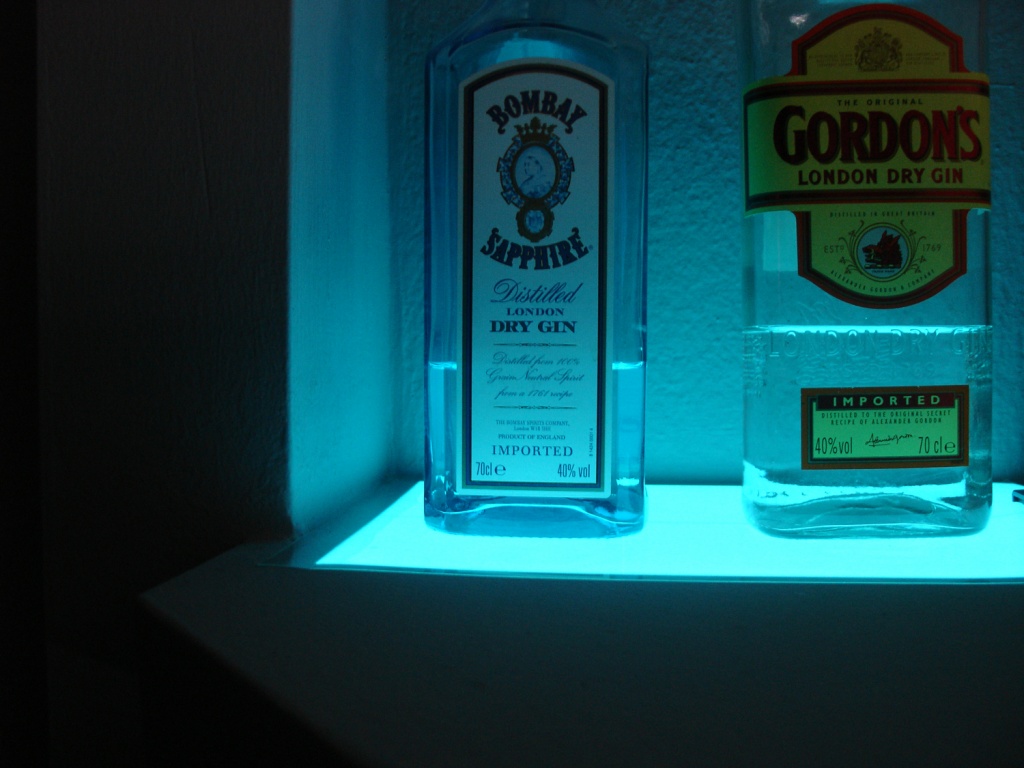 Bottle Shelf Uplighting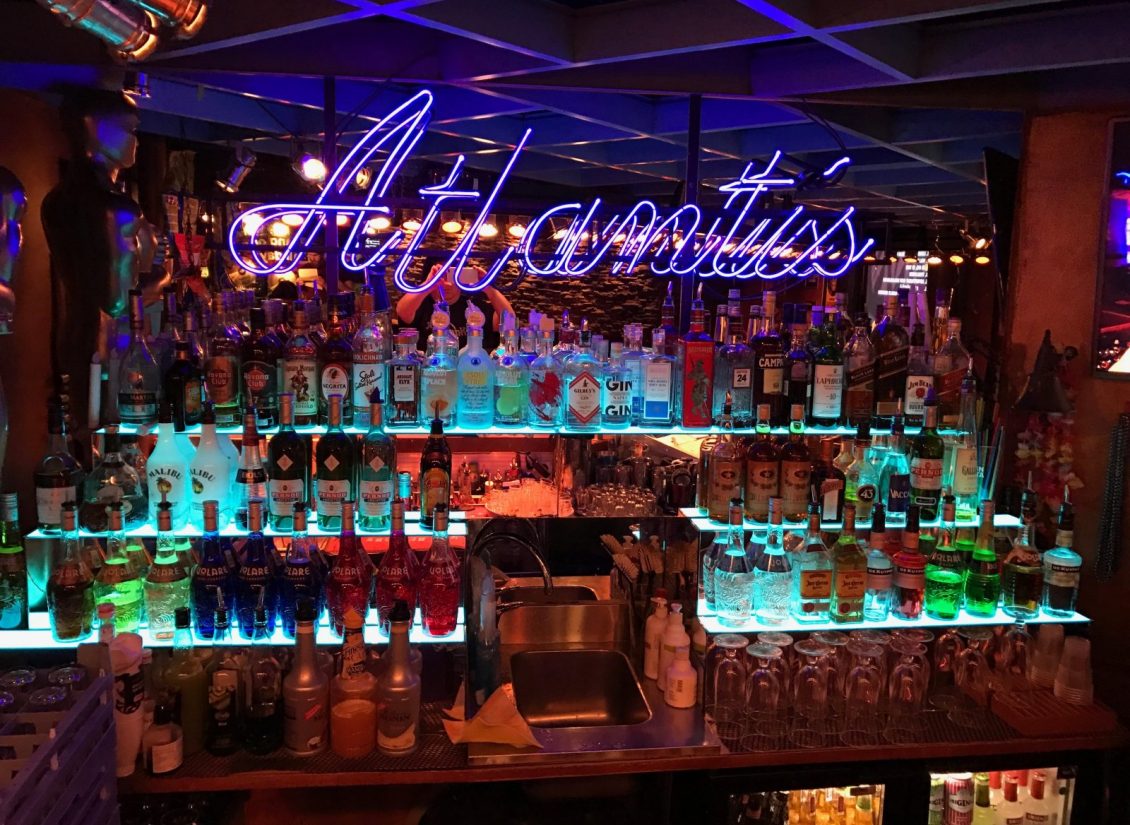 Atlantis Club - Finland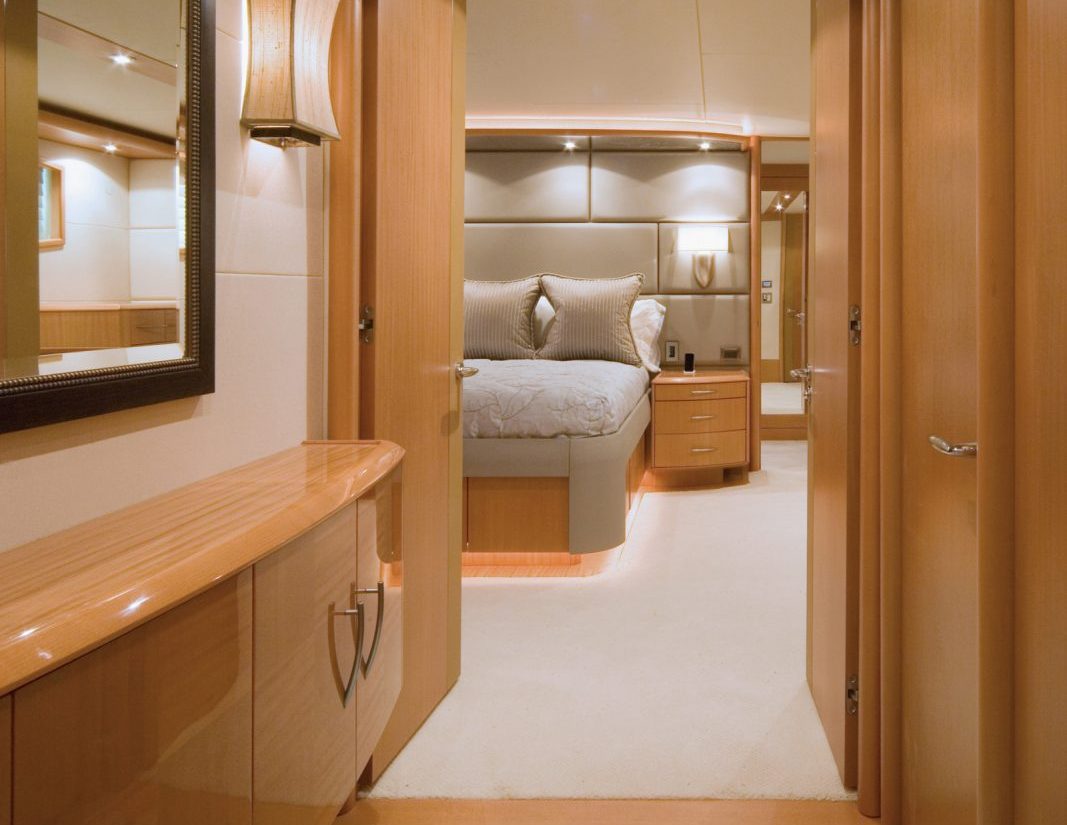 Lazar Yacht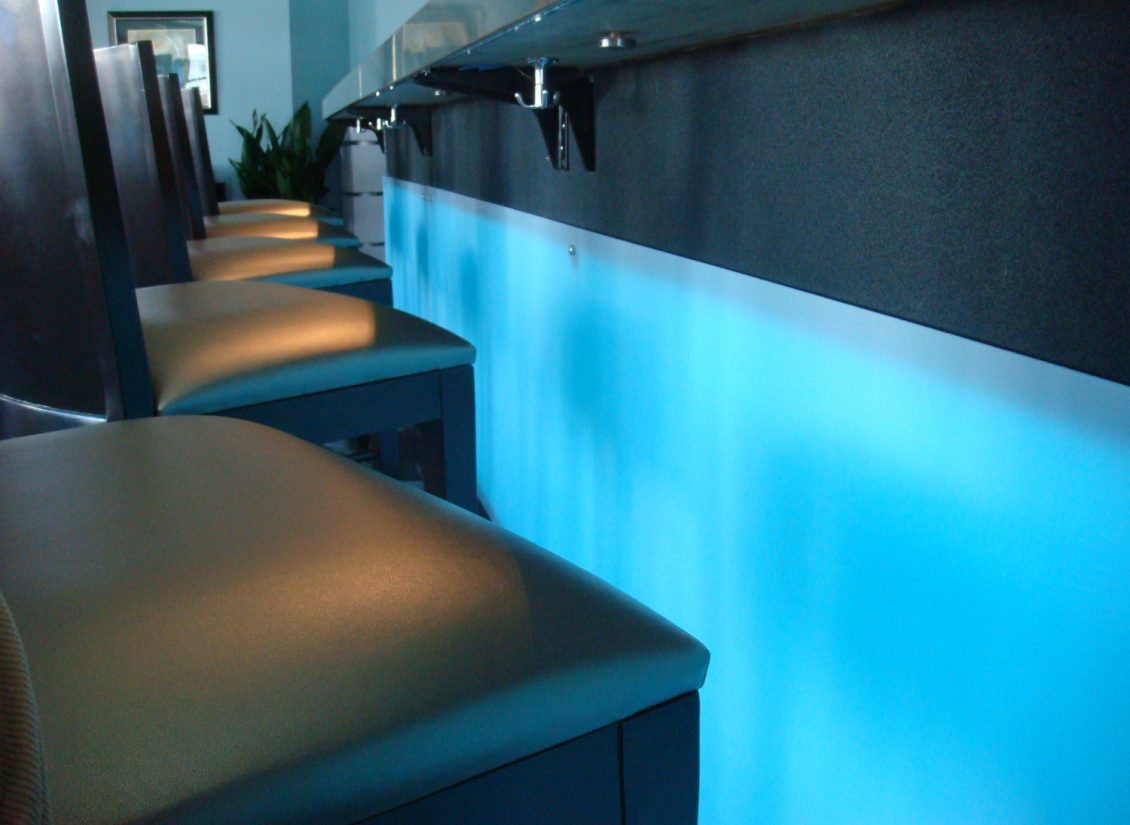 Sky Club Bar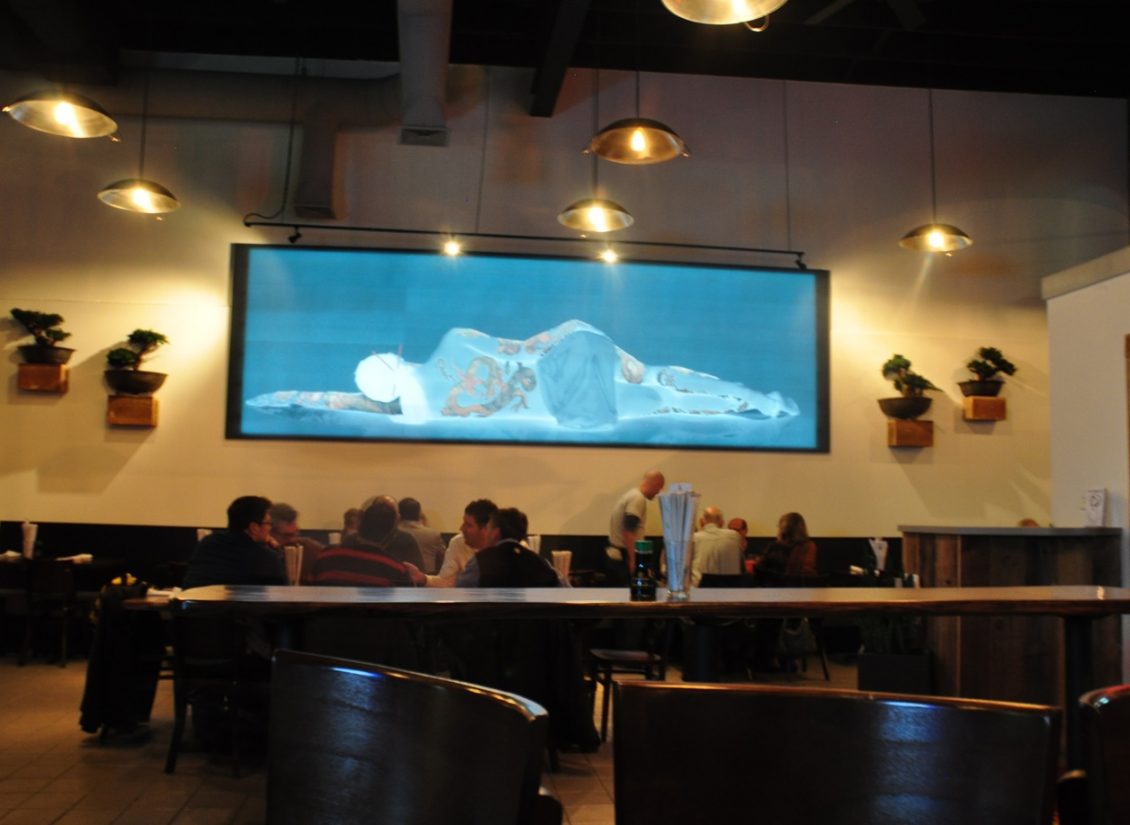 Fat Dragon Restaurant - Richmond, VA