Learn why backlighting with Light Tape is the way to go, and how we are different than LEDs.
Getting Started
Backlighting doesn't have to be a daunting task. Stick with us, and we'll remove the stress. It doesn't matter if this is your first project or your thousandth, we'll happily walk you through the process of backlighting your stone or surface step by step from start to finish.
Two easy steps:
-Pick your surface.
-Send us your design (See the below file for what we need).
We have plenty of experience working with homeowners, designers, and contractors. Ask us any question- we can help.
Picking Out Your Stone
We've worked with lots of different surfaces in the past, and can help you determine what works best with Light Tape®. The more translucent the better. When considering Light Tape® over a traditional LED backlight, a more translucent surface works best since the light doesn't have to be diffused. Because we don't have individual bulbs, your surface will be evenly lit. If your surface is very opaque with minimal light penetrating, an LED solution might work best for you.
Here's some great surfaces we know work well with Light Tape®:
-Cristallo Quartzite
-Honey Onyx
-Blue Agate
-Stained Glass, or really any highly transparent material.
-Solid surfaces by Avonite, Corian, 3Form, etc.
The thickness of your stone or surface is also important. For Light Tape® we recommend no more than 2cm thick, especially if it's natural stone. That being said, very translucent stones can be thicker, such as Cristallo.
How To Test A Surface For Translucency
It is important to understand how transparent your surface is. This will dictate whether Light Tape or LEDs is the best solution for backlighting. All you need is your phone flashlight to determine the relative translucency. Please click below for more information regarding our Backlighting Surface Test™.
First, do the test in normal ambient light or low light. This will replicate the installation conditions. If the test area is too bright, it will not show you an accurate result of how translucent the surface is.
The goal of the Backlighting Surface Test™ is to determine how much light passes through your surface. When placing an LED light source from your phone directly on the back of the surface, you will see how much light passes.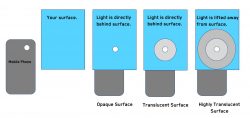 If you just get a little bright dot with no light halo, then you have an opaque surface. If you see a dot with a halo, then you have a more translucent surface. The last step is to slowly back the light away and see if the halo grows. If so, you have a very translucent surface.
Why Is Surface Translucency So Important?
The more translucent your surface, the easier it is for light to pass through, and the less need there is for light diffusion.  Remember, it is important to check your surface's translucency. Not every stone lights the same.

How We're Different From LEDs
Light Tape is coated over a surface with phosphors that is a meter wide.  These phosphors glow with electricity and the entire surface lights evenly.  Like a long continuous giant poster board that glows.

LEDs are single point sources of light.  Phosphors are coated on the tip of the LED module.  The LEDS are then spread out on a ribbon at different spacings.

The real challenge with LEDs is making 100 light bulbs appear to be just one. This usually requires a lot of light diffusion and 'scattering' technology. Light Tape® is different in this way because each panel is like one bulb. LEDs are better for surfaces that are not very transparent or translucent, and where the surface can act to diffuse the uneven light source.
If your surface is translucent to transparent, use Light Tape®. If your surface is very opaque to very dense, LEDs may be the better option.  Test the material and give us a ring if you want our opinion, we don't want to offer a light that doesn't make our customers happy. We'll let you know upfront if we think your surface may be too dense for Light Tape®
How Much Does It Cost To Backlight Your Solid Surface?
As a rule of thumb, the cost to backlight a counter is about the same as the surface cost. When you combine the material and installation cost, the end cost will be about the same, the range of around $70 to $80 a square foot.  Light Tape cost is higher on a square foot basis because the entire surface is a lamp. At the same time, you just roll it out, installs in minutes with virtually no installation cost.
With LEDs, you are not paying much towards the actual light source, as the LED bulbs are very cheap.  The costs are more for plastic light diffusing sheets and installation.  If you choose the small squares, there is a lot of wiring and fitting.  The large panels require several people to install and can be heavy, increasing the cost of shipping.
Who Are Some LED Backlighting Suppliers?
There are basically three different LED options for backlighting.  The first are sold as squares which are usually 12"x12″ in size with LED bulbs around the edge. The second are larger acyclic panels with LEDs also around the edge.  And the third are rolls of material that have LEDs embedded into sheets and spaced apart.  They all use the same LEDs, just in different configurations.
SLABlite is a popular example of a company that offer 12"x12″ rigid plastic squares with LEDs around the edges. They are assembled modularly to illuminate an area, so lots of small panels cover the surface. Cutting them into odd shapes to fit your surface makes each square carry light differently. When illuminating a larger surface, there are clear differences in light intensity and visible dots. By the end, you have dozens of connections points and wires to hide making the installation and maintenance very tedious. While you may save a little on square foot pricing for materials, those savings are significantly offset after installation costs.
Evo-lite® Advanced Luminous Solutions, another LED company, has two main products for backlighting surfaces. These include rigid edgelit LED acrylic panels, and flexible LED sheets.  For retail and commercial applications, if you are competing against natural light, you might need the high intensity brightness of an LED. Generally with commercial backlighting, often installation space is less restricted, giving plenty of room to diffuse the light.  For home use, this system is more cumbersome, and you probably don't need a product so high in brightness like you would in a casino or mall. There are adverse effects with too much light.
Don't Sweat The Installation
If you're working with a stone fabricator, electrician or contractor, they should have a template of the stone, or the countertop underneath.
We basically do all the work for you. Our laser machine cuts perfectly to the shape you need lit.  All you need to provide is the sub-surface to lay the Light Tape® on before the final surface goes on top. This is usually a very thin sheet of plywood or acrylic.
We can illuminate up to an 11 foot surface at 30" wide with a single panel and connection. If your surface or countertop is bigger or wider than 30″, no problem! We can always overlap the panels because Light Tape® is thinner than a credit card.
We precut all the sinks, faucet holes, taps, and outlets for you.  Just lay the Light Tape® on, and you are done.  There's no need to worry about a buffer between the stone and Light Tape®, or space accomodation for bulky diffusion boxes. We don't generate heat, so no need for a heat sink. We can fit easily with your existing plans and designs with minimal effort!
Imagine a material like laminated construction paper that illuminates, and comes in a long roll. That is roughly the same form factor of Light Tape®. One power supply can illuminate multiple Light Tape® panels, reducing the electrical needs.
Generally, your contractor or electrician will install our Light Tape® panels. Feel free to have them contact us with any questions they may have.
If you're a contractor, electrician or stone fabricator please take a look at our installation manual below. If you have further questions that aren't addressed, give us a call! We can sort you out.