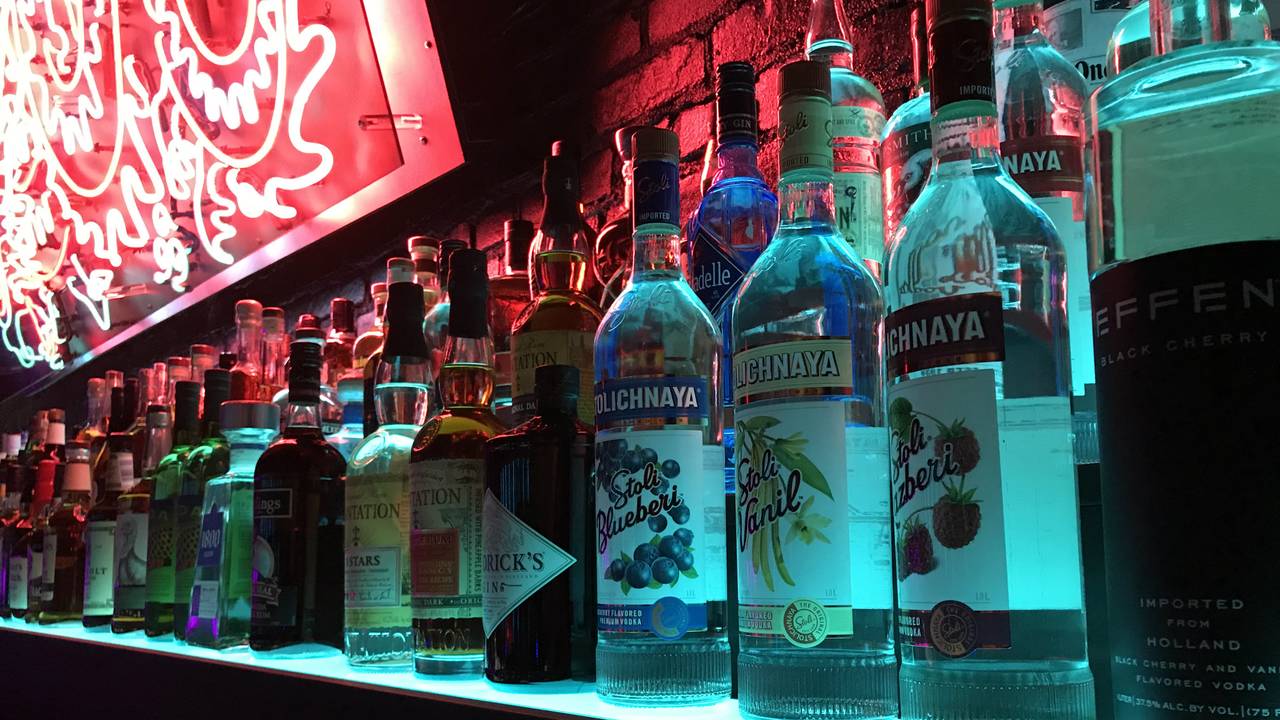 There is a sense of normalcy happening, as summer 2021 approaches. It is about time to entertain! We're all ready to get outside, be around friends and family, and enjoy the summer sun. 
Whether you plan to entertain by having friends over to enjoy a game at your home bar or have a barbecue and enjoy your covered outdoor patio bar by the pool, the bar will likely be a centerpiece as we make up for lost time hanging out. As your friends grab drinks at the bar, get them talking with unique bar accents that will wow. Bar backlighting is a great way to upgrade your bar experience. 
Light Tape® provides backlighting to suit many different lighting ideas and visions you may have for a unique standout feature at your bar. You can cut Light Tape® to your specific size needs and choose the color best suited for you. Not only are there endless ways to use Light Tape®, but it is also easy to set-up, maintain, and lasts for years. 
Below are five bar lighting ideas to upgrade your home bar with easy-to-use Light Tape® backlighting. 
1.) Backlight Your Stone Countertops
Backlighting is the process of illuminating a surface from a light placed behind the surface. Light Tape® is a lighting application able to backlight many surfaces such as glass and countertop stone so you're able to see light through the material, creating a unique lighting effect with endless use cases. 
When Light Tape® is used to backlight stone, such as cristallo quartzite countertops, the patterns of the stone illuminate creating an exquisite accent as well as a useful lighted bar counter. Since Light Tape® can be used both outside and indoors, the lighting of the bartop can provide lighting for your outdoor bar at night and a spectacular accent light for your basement, kitchen or bathroom. 
Light Tape® works best with stone that has high translucency, including quartzite, onyx, and agate. Light Tape® also works well on any other translucent surface including glass, stained glass, and even solid surfaces by Avonite, Corian, 3Form, and more. 
Using Light Tape® to backlight your countertops provides an even light source and a unique accent that shows off the intricacies in the stone surface of your countertop. Learn more about the benefits of using Light Tape® for backlighting versus traditional LED lighting.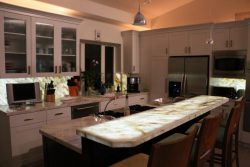 2.) Backlight Your Bar Shelves and Backsplashes 
It's always neat when restaurants and bars have their liquor selection lit up from below. If you want the same accent for your bar, look no further. Light your bar shelves with Light Tape® which provides ideal lighting for bar shelves because it doesn't require a buffer or diffusion. Glass shelves can be placed right over Light Tape® to achieve the backlit bar shelves you want that add a distinct accent to your home bar or outdoor bar area. 
Thinking of a stone backsplash for your bar? It's not only the countertops that can use Light Tape®, you can backlight your stone backsplash with Light Tape® for light from the back of your bar or entertainment area backsplash.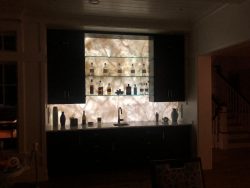 3.) Bar Accent Lighting
Lighting under your bar can be useful both under the cabinets to create enough lighting to make drinks without having bright, obtrusive lighting on. Below the bar counter, bar lighting can help to illuminate your bar seating and tie lighting accents together. Using Light Tape® under cabinets or under the bar counter is another way to backlight your bar; great as a standalone accent or when paired with backlighting for your bar countertops.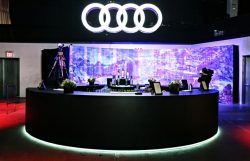 4.) Lighting Custom Shapes
Light Tape® can also be used around shapes or really anywhere you would like outlined in light.  Maybe you have some custom shapes, cutouts, or other features you want lit up at your bar. If you want the ceiling or corners of your bar illuminated or have a specific shape you would like to be lit up, Light Tape® is your solution. Light up the angles of your bar or atypical shapes with light in your choice of color.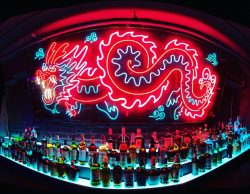 5.) Lighting Stained Glass and Other Accents
If you have any glass or stained glass accents in your basement bar, kitchen bar, or other home bar, you can add lighting behind those glass accents to brighten them up and illuminate those special accents you already have as part of your bar. Light Tape® can backlight any glass surface and is offered in a variety of colors to let the colors of your glass shine or provide another layer of color with the added color of the Light Tape®.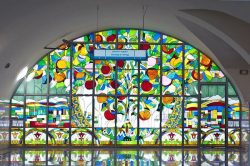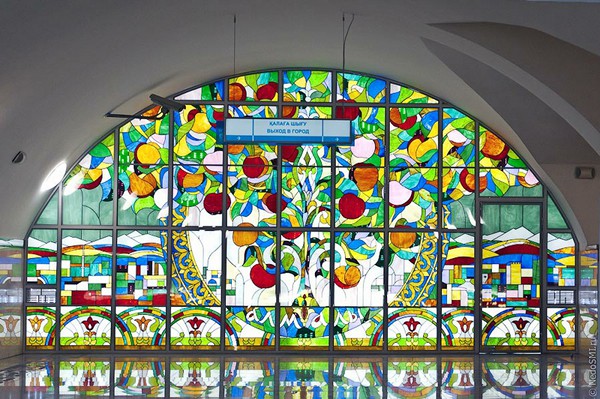 —
There are many ways you can make use of Light Tape® as a simple yet state-of-the-art accent for any bar in your home. From the seating, to the bar shelves, to your stone or glass accents, Light Tape® can make your home bar shine brighter by providing a one of a kind lighting accent at your bar. 
Contact us to learn more and ask about custom cuts to achieve your home bar vision. We're happy to help make your bar ideas come to light.