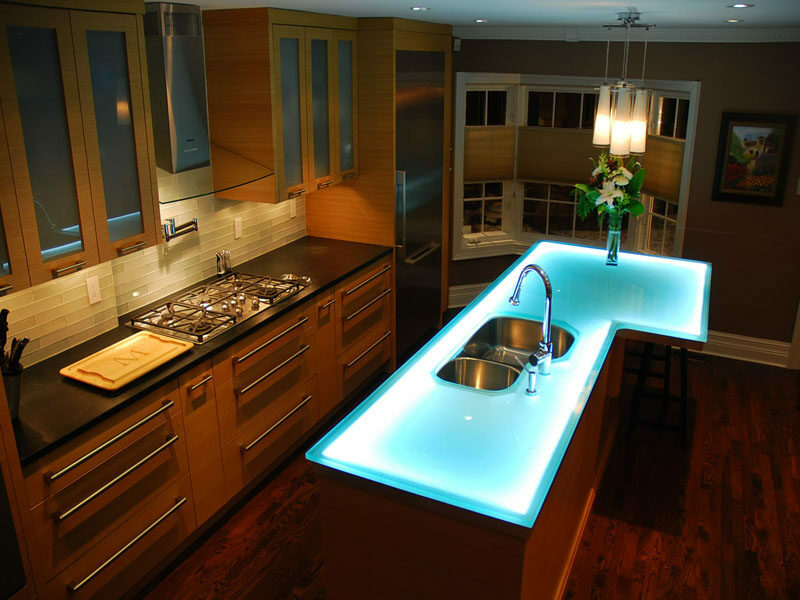 Hot spots are as simple as they sound, the result of too much light in one area compared to surrounding areas. Translucent surfaces like quartzite are fantastic to backlight.  They allow an amazing level of light to pass through the surface which illuminates details normally left hidden inside the counter.
When a translucent surface is illuminated with too much light in one area and not enough in another, first thing you see is the unbalanced lighting.  In most cases, the hot spots are on the long edges when backlighting translucent surfaces. That is normally where the primary light source LED bulbs are located.
Seems simple to correct, but getting light to transmit evenly over a large area is quite difficult. Especially when the primary light source is on the edges and shining in to the middle. Yes, at some level, if you blast enough light, everything will be illuminated somewhat 'evenly.'.  The downside to that approach is your counter becomes a humungous bright lamp. You lose the elegance of your installation.
The best way for a surface to look evenly illuminated with LEDS, one must have the proper level of diffusion.  That can be achieved by creating enough space to allow the light to blend on the surface. Same concept for years with movie poster light boxes, hold the artwork far enough out so you don't see the long fluorescent bulbs.
One way to evenly backlight a surface with LEDs is to create a light box underneath your surface for space to diffuse the lights.  By building a 4 to 6 inch enclosure on top of you cabinets during fabrication or raise the counter surface. You can then place LEDs in the space between which will help diffuse the small bulbs into one backlight. Downside is your counter can get quite warm on the surface from the LEDs. And you lose some precious counter space.
Another option is utilizing electroluminescent technology, big sheets and rolls of light as thin as a credit card. With Light Tape® EL technology, the entire illuminated surface is coated with phosphors and when powered, the entire light source illuminates. Instead of building a light box, you lay down long panels that over the entire sub-surface and cover with counter. Simple!
The surface of Light Tape is coated with thousands of small phosphor particles.  When powered, the phosphor particles all light up at the same time and make the most evenly illuminated lamp available in the world. Light Tape® offers the capability of having long continuous lengths of light of 30 meters or more and just one connection, one light source tuned to the perfect brightness. There is no need for a diffuser with Light Tape®.
Light Tape® is manufactured in the United States. Let us 'Bring your imagination to light.'(TM)
---
Using Light Tape®'s electroluminescent EL technology has many benefits that set Light Tape® apart from LEDs. It can offer you the look that you're after to enhance your bar, backsplash, counters, or elsewhere, without excess equipment or the worry of electrical hazards. With easy installation, seamless lines, no excess heat production, and the ability to cut and customize, you can have a reliable lighting accent with Light Tape® that achieves your vision in no time. 
See it for yourself and contact us to learn more about Light Tape®. If you are all ready to get your lighting set-up and ready to entertain this summer season, take a look at our lighting kits to get started enhancing your space with Light Tape®.