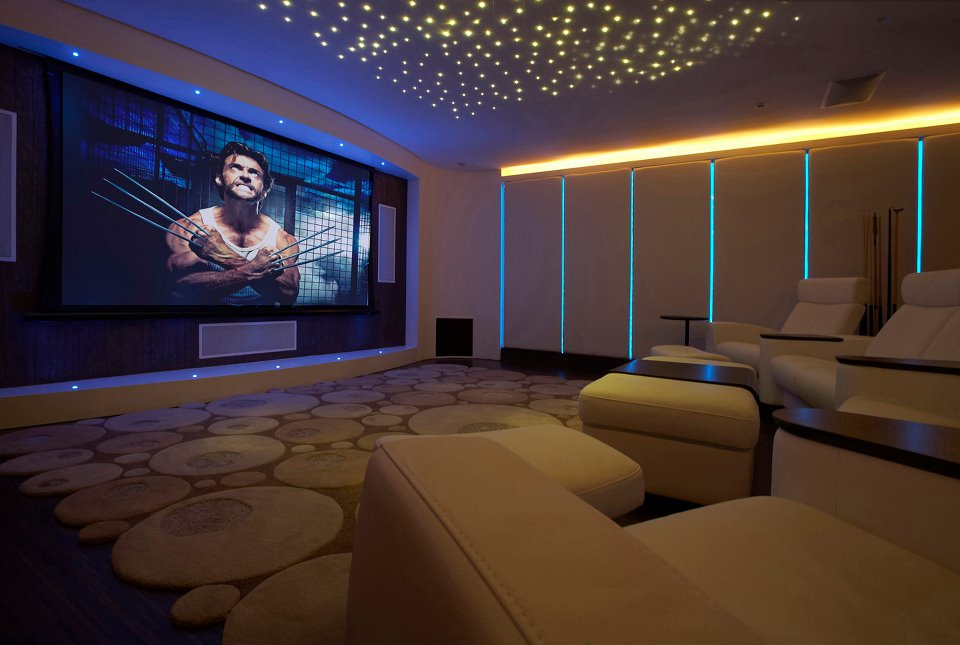 Tips for Creating the Ultimate Home Cinema
Colder weather is approaching, and the average American's options for outdoor activities are beginning to dwindle. While winter recreation can be a blast, there's truly no better time to hunker down and enjoy the comfort of your own home. What better way to do that than building your own home theater? From cables and sound to projectors and comfy seats, we're delivering the best tips on creating your perfect home theater from the professionals who know best. Whether you're in Bedford or Portland, read on and learn how to create the best home theater experience on the block.
Invest in the right equipment
When selecting a projector for your home theater, placement is an important factor. Consider an ultra-short-throw projector, which can sit right in front of the screen. This provides an authentic theater experience, preventing the disruption of having someone walk in front of the projector during a viewing. – VAVA
In my home theater of choice, it all starts with a proper projector. For the same price (and often even less) one would drop on a large and cumbersome mounted flatscreen TV, one can purchase a 4K-compatible DLP LCD projector that can cast extremely vivid screen images double the size of a television unit without losing resolution quality. Paint that white accent wall and fill the whole room with a great movie's beamed glow! – Every Movie Has a Lesson
Take the time to set up your audio the way you want
Instead of using room correction, try setting things up yourself. It's not that hard. Start off by setting your front three speakers to large in the settings of your receiver and hear how much more natural everything becomes. For richer bass, search for subwoofers that offer high-level Inputs, they tend to sound more natural too, especially when you've set your speakers to large. You may be looking at a subwoofer just to get bass in your theater, we would take it a step beyond that. We would say that if you don't have a subwoofer in a theater, you're not listening to theater. It's simply incapable of actually disclosing what theater is about. – REL Acoustics
If your system is all boom and sizzle, dialog gets lost and the big moments send you scrambling to turn the volume down.  Use calibration features in your audio system to ensure a balanced sound that doesn't distract you from the movie. – Audio Command
Cable management is key
Cable Management is the forgotten aspect of having the ultimate home theater. Loose cables can not only be a safety hazard for homes but are also an eyesore. We all know that home-theater systems can be very costly so you want your setup to be the safest and modern looking by using different cable management products that suit your needs. Remember, cable management is vital to creating a visually appealing and clutter-free home entertainment area. – Cable Wholesale
Watch your step!
Home theater owners love StepGuard™ by Light Tape® because it is a clean light solution – more energy-efficient than LED systems, and won't cast an obnoxious glare on your screen that distorts your movie or big-game experience.   Not to mention that StepGuard™ is a breeze to install, and built with pride in the USA utilizing the best materials that are manufactured to last. – Light Tape
Take acoustics into consideration
Home Theater is an excellent opportunity for family time.  Consider following the guidance of many theater chains and utilize an acoustically transparent screen with the front speakers mounted behind for an aesthetically pleasing appearance and superior audio placement.  Plan your room before purchasing anything and consult with an expert that will design,  sell and install a solution for you.  There are many pitfalls of going it alone, but if you do, research is your best tool.  For instance, using flat darker paint as opposed to any of the available sheen finishes is ideal as it is less likely to reflect light from the projector and screen which causes image degradation. – Bennett Technologies
Incorporate sound dampening materials
Home theaters are more popular today than ever before and acoustical treatments help to create the ideal sound clarity and aesthetic while also reducing room reverberation. Sound systems are designed to create an atmospheric surround sound, making you feel as if you were inside the scene on the big screen. Acoustic Geometry offers Room Packs that enhance the performance of sound systems. Product placement is key for proper absorption and diffusion; corner panel placement, specific reflection point diffusion, and low-frequency pressure absorption are ideal for better sounding theaters and assist with lessening sound leaving the room. – Acoustic Geometry
United Plastics' dB line of sound barrier products helps create quiet, calming and comfortable movie theater space. Created with both commercial and residential noise reduction in mind, dB's tough, sound absorption materials are better at sound control than equivalent mass loaded vinyl products and ware ideal for creating the ultimate home movie theater experience. – Trimaco
Do your research
Clients might initially ask for a home theater because they want excellent sound and video quality. Invariably, their vision broadens into a desire for a highly personalized space and experience.  Integrators are rarely qualified to provide this, and once the process is started it's often too late.  We recommend homeowners shop around and select an integrator with a team of outside experts in design and acoustics among other things. – Launch AV
Call a pro
Home Theater systems are constantly evolving and there are always new solutions. The pros know and chances are we've already bench tested the "latest and greatest" and can help explain pros and cons across different systems and budgets. You're going to want a control system for simple use of your system along with integrating lighting and even motorized shading. It won't be the theater of your dreams if you're fumbling a bunch of remotes and the lights don't dim (or if there's only one person in the house who can make it work!) – Buttonwood Inc
The Ideal Home Theater Checklist:
Ensure a proper speaker setup – with crossover configuration along with room equalization and/or room correction
Find the right acoustical balance – Create a comfortable room or space with the right balance of materials that absorb and reflect the sound
Think about how you'll interface with the system – whether it be a remote, a touch panel, or even your phone – as this will determine how easy it is to use
For a large, cinematic experience, go with projection – it offers the best value for large sizes, has a different feel, and is more theatrical
Do some research – Every manufacturer has a range of products, some offer a better performance value for the money – TV Specialists